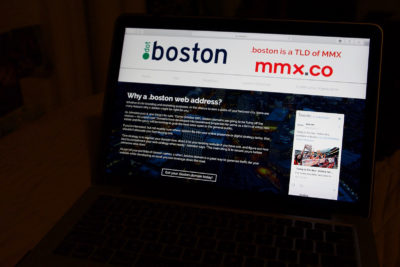 The City of Boston and Minds + Machines (MMX) announced the launch of .boston domains Tuesday, which allows any Boston resident or business to register a .boston web address.
Kyle Austin, managing partner at Beantown Media Ventures, the marketing company promoting .boston domains, said this is a great new opportunity for residents.
"This is kind of a gold rush opportunity where people in Boston have a new opportunity to buy domains that probably aren't available in .com," Austin said.
MMX created .boston domains given the decline in available .com domains and the increased importance of hyper-local mobile searches in recent years. Within two hours of opening, 2,000 domains were purchased, Austin said.
Austin said he believes this is particularly beneficiary because people use their phones to look for local places.
"We live in a mobile-first world, where customers discover the businesses to buy from around them via their mobile screen," Austin said.
Austin said by having a .boston domain, a small business is providing search engines with another clue that they are based in Boston and therefore increasing the likelihood of appearing in the first page of results.
Austin wrote in an email to The Daily Free Press residents do not need to make a website to have a .boston domain.
"You can actually buy this domain and not even build a website around it and use it to connect to your personal address, you can even use them for Twitter, you can use it for Facebook," Austin wrote. "If you are building your personal brand within the workforce you can even use it to connect your LinkedIn page."
The number of "near me" Google searches doubled between 2014 and 2015, with 80 percent of those searches happening on mobile devices, Austin wrote.
Solomon Amoako, the vice president of channel management at MMX, said he believes .boston domains are important not only because it indicates the business is based in the City, but also because the Boston URL means something more to those who live there.
"Everybody looks at .com as having a website and as time has gone on there are less and less .com's available so the specific name that organizations or individuals want are not available," Amoako said. "We felt that it was important to have an extension where to the right of the dot there is real meaning to it, Boston means something to individuals that are from Boston and have Boston pride."
Amoako clarified the domain .boston domains were meant for everyone but especially to help nonprofits, startups and charities.
"It is really important for us that nonprofits, charities and government organizations and so forth are taken care of," Amoako said. "We are going to have a community fund where at the end of the year we pulled a lot of money together meant for startups and new organizations that want to grow in Boston and our committee will decide who gets the funding."  
Amoako said MMX wants to help the community by launching this new online feature.
"We as the people who are launching .boston domains want to make sure that the Boston community understands that we are there to make this grow and it is for Bostonians, it is for the nonprofits, it is for the people in the community, we are socially responsible and socially conscious," Amoako said.
Several Boston residents said small businesses within the City will benefit from .boston domains.  
Ariela Weinbach, 30, of Allston, said she thinks the .boston domain can help many small business owners, including herself.
"It sounds like a good opportunity for people to show that they are based in Boston without people having to enter more search criteria that would get content from the pages," said Weinbach. "Just giving the address shows that it's Boston."
Weinbach said she will look into making a .boston account.
"I have my own website, it is under .com and now I'm going to go home and see if maybe there would be an advantage for me because I do consulting work and it would be helpful for people to know that it's a local service," Weinbach said.
Christian Vail, 21, of Back Bay, said he thinks .boston domains will help local businesses.
"With working professionals and such it gives you more of an idea of where they are," Vail said. "You can skip that step, you know they are in Boston, you know it's a local place, I think it could definitely take off if advertised correctly."
Jake Gibney, 20, of Allston, agreed and said many local business owners will make use of .boston domains.  
"Local companies could definitely benefit from that," Gibney said. "If they are able to put .boston at the end of the name you'll be able to say we are from Boston from the address."
CORRECTION: A previous version of this article referenced Kyle Austin as the "spokesperson of Beantown Media Ventures," when his title is actually "managing partner at Beantown Media Ventures." The previous version also quoted Austin as saying the launch of .boston domains is a "gold fresh opportunity," which is meant to be "gold rush opportunity."