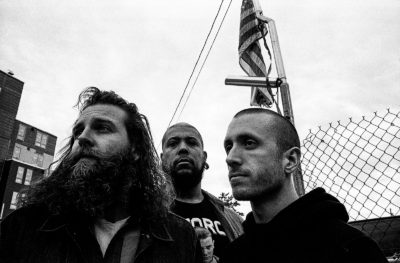 Boston is a city known for its pride and exuberance over its beloved sports teams. Bostonians are famous for bringing a passionate energy to the Red Sox, Patriots, Bruins and Celtics games. But according to Boston-based rock group, Long Time, sports aren't the only thing that gives Boston its electric feel.  
They explained in a phone interview with The Daily Free Press that musicians and artists throughout the city have created a scene full of inspiring creativity, even surpassing that of New York City.
"Boston has an energy that's like, everyone who's doing stuff here is really making it for themselves and the scene is made by the people in it and not by the place," said Long Time drummer Andrew Nault.
The spirited, "DIY atmosphere" of Boston has allowed Long Time to find their place in the music scene with a four-track EP "Worth," released in 2015 and a full-length album, "Never Alone," which debuts Friday.
The band praised Boston artists for producing work that they believe is truly original and a reflection of their creative voice, calling the city's energy "unabashed."
Long Time emulates this on "Never Alone," which has been in the works for around two years, according to bassist Colin Dinnie.
While putting final touches on the previous EP, the trio continued to crank out songs, eventually realizing that each one reflected their experiences and who they were as a band, both then and now.
"['Never Alone' is] more indicative of who and what Long Time is," said vocalist and guitarist Tom Cadrin.
Cadrin explained that, for the "ultra dynamic rock" trio, making music is not about following a formula or pattern, but creating what speaks to them and enables them to express their voice as a group.
They tend to find the basic skeleton of a song by simply playing together in a rehearsal space, they said. Dinnie compares their process to a puzzle, with each member of the band later refining his piece until it fits together in a melody.  
This is not to say that the band just throws together different instrumentals until something clicks. Rather, the exact opposite is the case.  
Their best songs are extremely well thought out to ensure that they best echo the band's creativity and expression, Dinnie said. Cadrin described it as an "organic journey of discovery," explaining that the band records most of its songs live rather than in separate recording spaces.
The trio used frequently described their songwriting process, the creation of "Never Alone," and their journey as a band as "deliberate."
"Everything is happening as it should be, and it feels and sounds so thoughtful," Dinnie said.
Their journey together officially began in 2014.  Cadrin had been producing acoustic tracks for quite some time and was working with Nault to enhance some of the recordings.  Nault said he immediately recognized the potential of Cadrin's songs and connected him with Dinnie.  They held one practice together shortly after, and the rest is history.
Now, after three years together and the debut of their first full-length album, Long Time is looking positively and expectantly towards the future.  
"The goal of this band in particular was always just to find a collective voice that we were all excited about," Nault said. "It's not necessarily about a specific place or individual to get in front of … it's just been about having a place to express what we've been trying to say and doing so in front of as many people as possible."
With all three unable to imagine a life without music, they said they are driven by the motivation to get their voices heard by the public and the opportunity to share their passion with others.  
"I've always felt like if you love music and if that's what you want to do, regardless of your level of success, you should always keep doing it if it's a part of who you are," Dinne said.