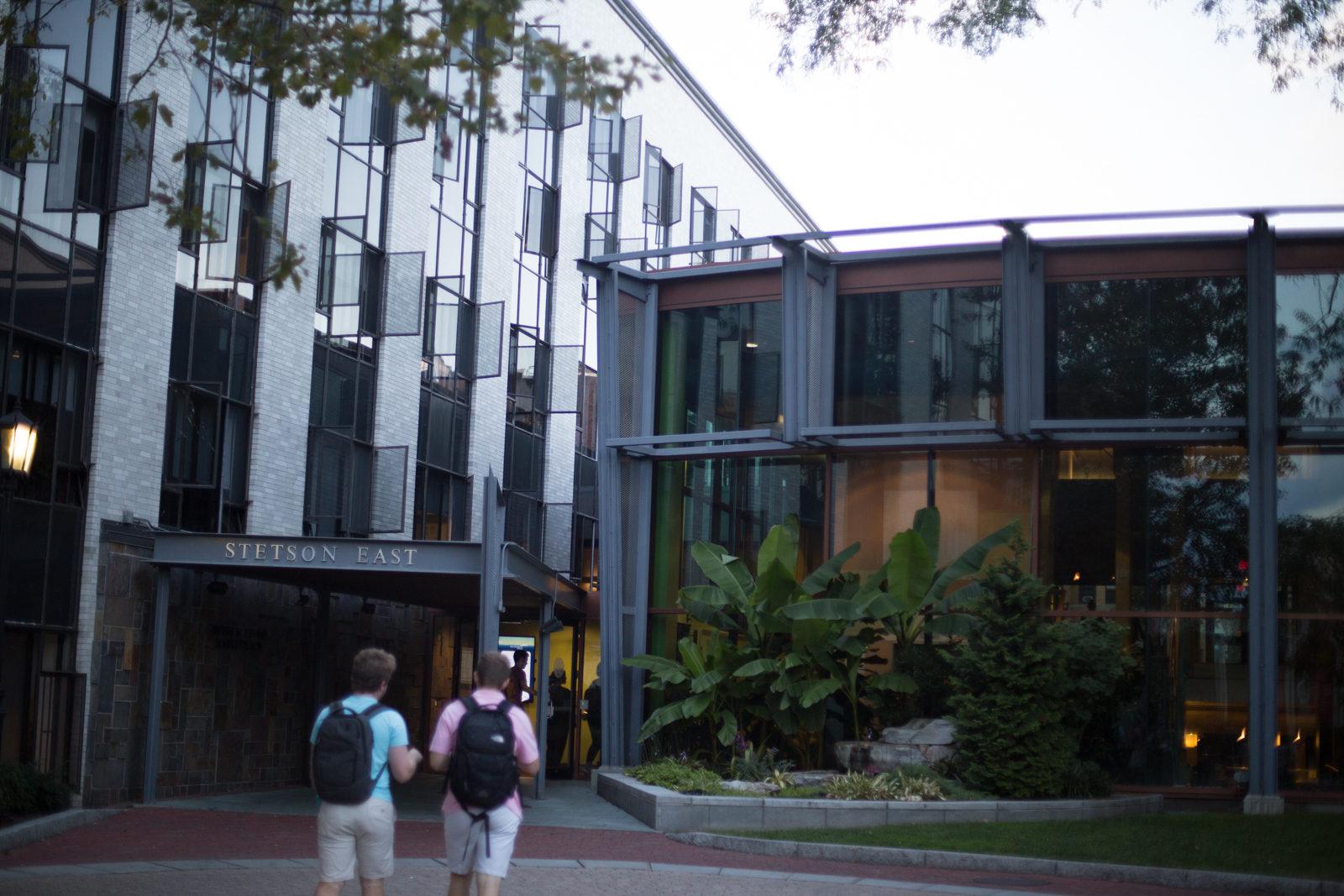 Northeastern University dining hall workers will avoid striking after coming to an agreement on contracts Tuesday.
The employees threatened to strike over low wages and insufficient healthcare but they have reached a 5-year contractual agreement with their employer, Chartwells Schools Dining Services, hours before the intended strike, according to a release from the service workers' union Unite Here Local 26.
"Workers voted 316 to 2 to authorize a strike on October 4 over a set of demands that was inspired in part by the 22-day strike at Harvard University," according to the release.
Employees were requesting higher salaries and affordable health care, as under their original contract they did not have the needed income to properly sustain themselves and often were forced to rely on government sponsored healthcare plans, according to the release.
The new contracts address these issues by increasing annual salaries to $35,000 by 2019 and providing a health care plan which will be 97 percent paid for by Chartwells, according to the release.
In addition to these improvements, the new contracts also provide specific protections for immigrant workers, enhance non-discriminatory language standards including gender identity and add additional sick days for employees, according to the release.
"With the determination and leadership of the workers and students we have won an agreement that will be life-changing for our members and impactful in their communities," Local 26 lead negotiator Michael Kramer said in a statement in the release. "It raises the standard for campus food service workers across Boston whose value and importance in the university community is often forgotten."
Vanessa Snow, a Greater Boston Labor Council representative, said the school has enough money to be paying the employees more, which is why GBLC supported Northeastern dining hall workers in their struggle for better conditions.
"If people can't afford to live where they work then that's a huge issue," Snow said. "All these universities are nonprofit and so they don't pay taxes and if they're paying their employees and their employees are relying on public assistance that is just another burden that the university is putting on the taxpayers."
Huskies Organizing with Labor, a student organization who launched a social media campaign to get students to demand the university provide better conditions for dining hall workers said they are proud of what they've done to help these employees, sophomore Zoe Dickerson wrote in an email.
"I got involved with Huskies Organizing with Labor because I was frankly appalled by how little the dining hall workers were making at a university that always talks about community," Dickerson wrote. "The food service workers at Northeastern are an integral part of the community and they deserve to be appreciated and treated as such."
In a statement from Northeastern sent to The Daily Free Press, the school stated it was pleased with the new negotiated contracts dining hall workers and Chartwells have signed.
"We commend the parties involved — the union and our food service vendor, Chartwells — for working over the weekend to reach an amicable agreement for Chartwells employees," the statement read. "We are pleased that members of the Northeastern community, particularly our students, will not experience any disruption in dining hall service."
Several Boston residents said they support the union workers in their efforts to negotiate better contracts.
Paige Hendersen, 22, of Fenway, a student at Northeastern, said she thinks a new contract for the dining hall staff is a great idea because it is something they deserve.    
"They're part of the staff too, they keep the system going and they feed us all, so it would make sense that they have benefits and wages to match their service," Hendersen said. "To my knowledge the professors and the faculty get paid well and the dining hall are part of the faculty, they deserve the same benefits."
Josh Hartman, 28, of Roxbury, said he thinks if this is their full-time job then they should get wages and benefits that are sustainable.  
"If that is someone's career they should get benefits from their employer," Hartman said. "Northeastern needs to give them a competitive salary, but then also the benefits that come with it because there are people with families that rent in Boston which is expensive."
Hartman said since he works two jobs, at Boston Medical Center and Starbucks, he can sympathize with those who work a full-time job making minimum wage.
"I have the privilege of working a second job, but I work with people at Starbucks who work there full time and that is their main source of income," Hartman said. "I know that they're making less than $15 an hour and that is incredibly difficult to live off of in Boston."
James Dumeus, 35, of Dorchester, said as a business owner he respects the effort workers are making to be paid more fairly.
"I'm all for people who are inspired to get more from their place of work," Dumeus said. "I hope they come to a compromise, but I have my own business so it is hard for me to judge another person's business. You want to attract the right people and in order to attract the right people you have to be able to give something good that makes people want to stick around."
Kaylie Felsberg contributed to the reporting of this article.