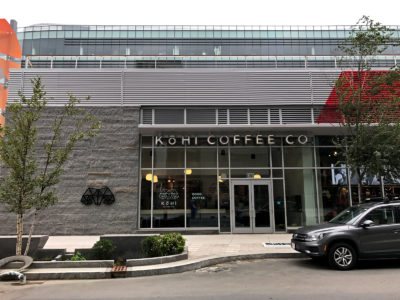 Known most notably as the space for the Boston Bruins practice facility and the New Balance headquarters, Boston Landing is an expanding hub of businesses located about two miles from Boston University's campus.
The latest addition to the neighborhood? Kohi Coffee Company, a coffee shop and espresso bar founded in Provincetown, Massachusetts, that promises high quality beverages along with fresh pastries and a cafe menu.
The shop opened on Thursday morning, announcing on their Facebook page that the location was finally open after several months of anticipation. Located right next to the New Balance flagship store, it was already packed full of employees from the neighboring businesses.
Right upon entering, it's apparent that this isn't your average Starbucks. The location is small, with a standing bar and a booth in the back corner, and it's thoughtfully organized. The white walls allow a wire sculpture of their logo, an abstract ram's head, to stand out, along with the impressive espresso setup.
The store seems designed to offer those with a busy workday a place to stop in quickly for a cup of coffee or a shot espresso. One woman in the store even commented that she had popped in to allow the "smell of the coffee" to motivate her to get back to work.
The coffee itself comes from Tandem Coffee Roasters, a roaster based in Portland, Maine — their espresso blend, Race Point, is a custom roast made for Kohi specifically. Bags of whole bean Tandem Coffee are available for purchase in the store, with prices ranging at around $16 to $19.
In a city full of Dunkin Donuts, the drinks on the Kohi menu offers a refreshing variety of choices. For customers who just want a regular cup of joe, there's the option to purchase of "Batch Brew," Kohi's house standard for a cup of coffee. And at just $2.75, it's a good price for a high quality cup of coffee.
For those who want something a little more complex, Kohi offers a single-origin pour-over. Prices for the pour-over range depending on the blend.
It wouldn't be a hip place to get coffee without the drink that's become hipster standard: a good cold brew — and Kohi passes the test. All of their cold brews are made with their single-origin blends. Their cold brew is delicious by itself at $3.75 for a small and $4.75 for a large.  
For $5.25, customers can try the NoLA version. Named after a cold brew technique popular in New Orleans it's the most unique drink on the menu. The coffee is brewed with chicory and sweetened with organic cane sugar. It's syrupy without being too sweet and will definitely provide a proper boost of caffeine.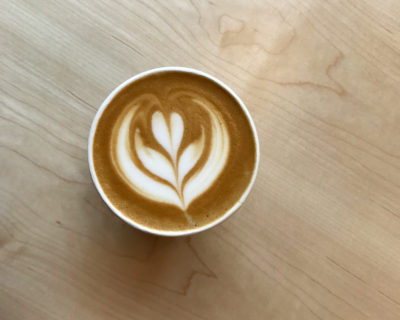 It's worth noting that Kohi does not have a bar that would allow customers to add their own milk or sugar, as the baristas add it themselves.
The plus side? There is no extra charge for dairy-free milks, but there's also not the comfort of knowing exactly how much milk is going into the cup. However, there's always the option to specify to the employees whether there's a preference for a lot or a little.
Employers looking to take their lunch break at Kohi can choose from their café menu, a highlight of which is their homemade biscuit with jam and butter. An unusual choice for a coffee shop, the biscuit is fluffy and filling enough to make a delicious snack, and at just $4, it's a good deal.
Another curious option on the food menu? The Toad in a Hole, which features (thank goodness), no actual toads. Instead, it's a piece of $6 buttered toast with an egg cracked in the middle.
Additional breakfast options include house made granola with Greek yogurt and fresh fruit and their egg tartlets, which either come with feta and spinach or tomato, bacon and basil. All of the food options start at $4 and are no more expensive than $9.75 — which is the price for a chicken tarragon sandwich.
Overall, Kohi coffee is a cute, unique spot in the up and coming Boston Landing area that offers fresh food and (don't tell Dunkin!) a higher quality cup of coffee that most Bostonians are probably as not used to.
Will it be visited by many BU students? It's unlikely to make for a pre-class fuel stop, although those interning at nearby companies or residing in Brighton might want to pop in. That's OK though, because there are plenty of corporate mouths to keep caffeinated.