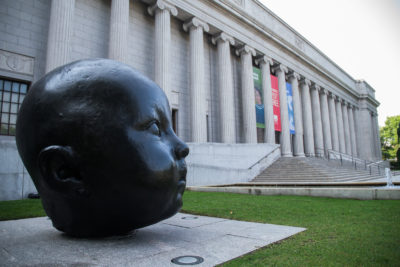 It's not everyday that museum educators and doctors collaborate, but last week they came together to promote health and wellbeing at Boston's Museum of Fine Arts.
The MFA was crowded with visitors Wednesday for another installation of "The City Talks," a series of discussions by Boston artists, doctors, entrepreneurs and social activists. This discussion, "Art and Medicine," was sponsored by HUBweek, a week-long festival that brings together people making an impact within the arts, science and technology.
A panel of experts who specialize in art and medicine answered a variety of questions posed by Joel Katz, program director of internal medicine residency at Brigham and Women's Hospital.
The discussion focused on the need to incorporate art into the world of healthcare and how that is being done today. Although it's still a niche field, the panelists were hopeful that the medical and art communities will realize how impactful art can be within the healthcare system.
"I'm seeing more and more articles, whether it's through newspapers or through academic journals about these [art] programs and the benefits that they are having," Brooke DiGiovanni Evans, head of gallery learning at the MFA and one of the panelists, said.
DiGiovanni Evans and her colleagues run the MFA's art and medicine workshops, which exposes medical residents from local hospitals to art as a way to improve patient care and to deal with the stresses of being a medical professional.
"It really opens up an opportunity for those professionals to talk about their experience as doctors, the stresses that comes with that, the variety of patients that they're working with on a daily basis and how to work with them better," DiGiovanni Evans said.
Another panelist, Alexandra Charrow, a four-year medicine-dermatology resident at Brigham and Women's Hospital, explained the benefits of attending workshops that integrate medicine with art. Charrow mentioned that she learned that just as art is a subjective experience for everyone, medicine can be too.
"There is a part of medicine that demands perfection," Charrow said at the forum, but she explained that "there is a lot of ambiguity and subjectivity in the diagnosing process."
Art can help doctors in variety of ways, she said — both personally and professionally — but more doctors are bringing their art-based knowledge into the lives of their patients. Panelist Laki Vazakas, an artist in residence at the Boston Children's Hospital, uses his filmmaking skills to help children document and explore their hospital experiences.
Vazakas said during the panel that he believes creating art takes children's minds off of being in the hospital and allows them to explore different surroundings. Vazakas referred to this as a transformative experience for the children.
He also discussed the ripple effect that this can have, as happiness is spread to patients, families, doctors and nurses. It gives child patients a sense of control and freedom in a place that lacks those human elements.
Event attendee Maggie MacMullin, 23, of Somerville, said she thought the conversation was thought-provoking.
"I was taking notes on the different effects that art can have on different people and they really brought up quite a few that I as an artist don't always think of," MacMullin said. "But I think the big thing is that communication is huge."
A point brought up by all of the panelists was the fact that art brings humanity to the hospital. In such a sterile and impersonal environment, many patients grow to feel that they have no way to express themselves, and art fills that void.
Sandro Galea, dean of Boston University's School of Public Health, was not a panelist at the event, but he's written about art's role in understanding public health in our society.
"There is a natural symmetry," he said when asked if he thinks that the art and healthcare worlds should interact more. Galea went on to explain that art can serve as an "aesthetic representation of the ideals of public health."
The benefits of merging the fields of art and healthcare continue to be further researched. Programs like the workshops at the MFA and the artist in residency program at the Boston Children's Hospital are appearing throughout the country.
The hope for many physicians and art professionals is that art will become an essential component of patient care and doctor training.
"Our wellbeing ultimately is a product of how we live in the world around us," Galea said. "Art has a clear role to play in creating a healthier world."