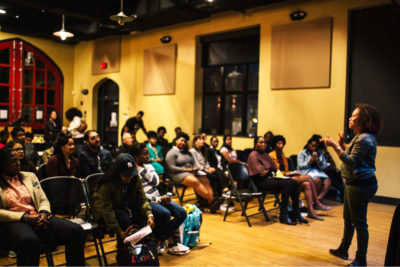 As Solange Knowles communicated through the title of her last album, women of color in the arts and entertainment industry have been struggling to find their "seat at the table," — their fighting for positions of authority and control.
This past Saturday, the Boston Art and Music Soul Fest organized "Souls of Women: Womanism, Arts, Music and Social Change." Panelists at the event were able to discuss their experiences with creating work that liberates and unites communities of color and also revealed their personal struggles.
The panelists discussed how they dealt with the media and societal perceptions of black and brown women succeeding in the arts as shocking, fearful and aggressive.
In a statement over email, Karl-Lydie Jean Baptiste, media relations coordinator for BAMS Fest, wrote that the panel was fitting with BAMS Fest's main purpose because it was  "created as a way for Black and Brown female musicians, arts educators, entertainers, and other creatives to discuss how they use their work to help liberate, educate, empower, and heal communities of color."
The panelists included Jha D Williams, an architect by day and spoken word artist by night; Adrienne Hawkins, dancer and choreographer; Adobuere Ebiama, an actress and model, who has been featured in plays and movies such as  "Mr. Joy" and "The Convert"; and lastly Paloma Valenzuela, a playwright, screenwriter, director and creator of La Gringa Loca Productions.
The women discussed a variety of things relating to their careers as female professional artists. They mentioned how they dealt with the media and societal perceptions of black and brown women succeeding in the arts as shocking, fearful and aggressive.
"There was never an institution that I would say that I stayed with because I could see that there was already a ceiling for me," Hawkins said during the panel. "I did not see the value in adding what I had to what they [institutions] had because … they dismissed what I had. I'm not going to stay here and have you belittle what I do."
For many women of color that are successful in the arts, there is a realistic fear that their ideas will not be heard by the traditionally male-dominated executive positions, Hawkins said.
According to the panelists, this is an omnipresent problem with women of color in their respective fields in the arts, as they struggle to get the same amount of respect as the other people in the industry while they produce work that is equal or better.
Valenzuela said she attempted to achieve greater representation of women in the arts by putting women of color central to her work.
"My mission is to entertain, to connect and to tell the stories that are often set-aside. Put those stories in the forefront," she explained.
Williams took the lack of representation into her own hands by creating a spoken word group called, "if you can Feel it, you can Speak it."
"At the time that I started it [spoken word group], it was mostly a place for lesbians of color to have a place to speak, to commune, to be heard, to have a place on a stage, and it evolved into a working space where the LGBTQI community of color and their allies could come together," Williams said.
An important commonality between the panelists is womanism, a product of third-wave feminist ideas. Womanism is a more encompassing term that includes women of color and other underrepresented groups in the bubble of feminism.
"There is not one way to be a feminist, and we're truly we are all feminists in our own way," Valenzuela said.
The playwright said she believes being a feminist can mean a variety of things and encompass many groups.
In relation to feminism and womanism, Williams said she wants to center inclusion. She said she believes that having an inclusive environment allows a variety of voices and perspectives to be heard.
"I'm all for prioritizing a certain demographic of people. However, I'm not going to ever at the same time purposely exclude anybody else," Williams said. "I don't believe I have to leave somebody else out of the conversation in order to be heard."
The artists at the "Souls of Women" panel had their own life experience but were all committed to being advocates for women of color. With every poem, dance, film and web series produced by these artists, they find themselves creating opportunities for women of color in the arts and dismantling the society that opposes this.
As Williams during her spoken word performance said, "I have decided to not be decided upon without my permission."