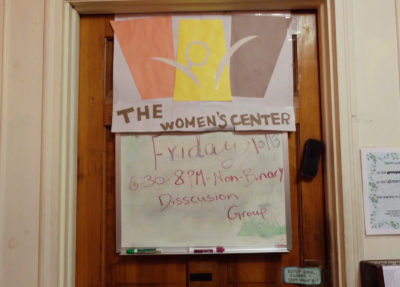 In the nonbinary community, it's not uncommon to get thrown out of a restroom because of your gender identity.
This was one story that surfaced at The Women's Center, a Cambridge gender equality community space, during its first nonbinary discussion group last Friday. The center routinely runs free group discussions for women on a variety of topics, including post-trauma experiences, financial management tips, and drug and alcohol recovery.
The nonbinary discussion group was open to anyone with the exception of those who identify as male, which is against The Women's Center's regulations, said Judy Norris, chair of The Women's Center Board of Trustees. The conversation was led by MaryKate, a nonbinary student intern at The Women's Center.
MaryKate, who requested their last name be omitted because they haven't completely come out as nonbinary, explained that identifying as nonbinary means to identify outside of the male or female gender binary. Many who identify as nonbinary prefer the pronouns "they" or "them," rather than being restricted to "she/her" or "he/him," they said.
MaryKate, who has been an intern since the beginning of the semester, decided that they wanted to start this group because there wasn't anything like it in the Boston area.
"Fostering community and finding people that are similar to you is important to me and also important to a lot of people," MaryKate said.
MaryKate noted that, although their first meeting took place at The Women's Center, future meetings might be held elsewhere. Even though The Women's Center's mission is to act as a safe space for women specifically, MaryKate said they didn't want to alienate nonbinary group members who may or may not identify with being female.
"We strive to be a source of support and encouragement to women dealing with pretty much anything and continue to try and change things about society that are still really unfair to women," Norris said.  
Norris explained that many of the daytime visitors are homeless women or women from low- income backgrounds. They depend on the center as a source of support when the shelters are closed.
"My favorite thing about the center is the kindness of the volunteers and the leaders," Norris said. "The spirit of the people that are here helping is awesome. There are very few women centers in the country now and I feel like they should be everywhere."
At the Friday discussion, the group shared personal experiences, including coming out to friends and family and struggling to receive respect for their preferred pronouns.
Similar to The Women's Center, BU's Center for Gender, Sexuality and Activism, works to provide a community where students can share their experiences and find a community.
According to Rachel Bennetts, president of the BU Queer Activist Collective and CGSA member, the BU space allows nonbinary students to share their grievances freely without being met with resistance or the stress of explaining themselves.  
"It's critical that every student feels they have a place on campus where they feel they belong," Bennetts said. "This is especially true for marginalized groups, including the LGBTQ+ community who are already at higher risk of feeling like outsiders. Having a space for all students, but especially those in marginalized communities should be a priority of the administration."
Likewise, MaryKate also said they believe spaces where nonbinary people can meet have the ability to ignite conversations and allow them to share their unique experiences.
"It's important to foster these discussions," MaryKate said. "It opens people's eyes to different things that you can be and broadens their perspectives."