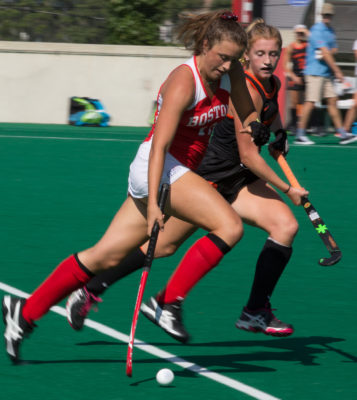 Riding an undefeated conference record in which the Terriers have outscored their opponents 20-4, the penultimate game of Patriot League play brings the Boston University field hockey team to Bethlehem, Pennsylvania for a matchup with Lehigh University.
The Terriers (9-6, 4-0 Patriot League) are coming off a tough 3-2 overtime defeat at the hands of rival Boston College. BU fell behind less than four minutes into the contest and rallied back to tie the game twice before ultimately conceding the game-winning goal just over three minutes into the overtime period.
Freshman Kathryn Scheerer scored the 2-2 equalizer, her first collegiate goal off a corner set. The back corralled a rebound and pushed the ball over the head of a diving Sarah Dwyer forcing the game into overtime.
"She got into an integral scoring spot and I loved the poise that she had," head coach Sally Starr said. "That was just a culmination of all her hard work."
BC freshman Fusine Govaert scored the game-winning goal passing Kathleen Keegan to put Boston College on top.
The Terriers are receiving contributions from a plethora of athletes as senior Allie Renzi netted her first three goals of the season over the last three games. Classmate and captain Kali Shumock returns home to Bethlehem having scored three goals and adding six assists over her last six games. She serves as the inserter for the Terriers in penalty corner sets.
"She's really kind of like the unsung hero of the team," Starr said. "She's a work horse, she takes a lot of pride in what she does."
The Mountain Hawks (4-10, 1-3 Patriot League) earned their lone conference victory in their last Patriot League tilt, a 1-0 victory over Lafayette University.
Junior forward Teresa Carotenuto paces Lehigh with seven goals and one assist.
Freshman forward Drew Pecora is another formidable offensive threat for the Mountain Hawks recording four goals and two assists including one of each in the team's most recent victory over Georgetown University.
Junior Kathleen Keegan and freshman Millie Baker continue to split time in goal for the Terriers. Baker has started the first half in each of the last seven games, with Keegan coming in relief save for the Terrier's home loss to Duke.
Baker is third in goals against average (2.44)  and Keegan holds the same spot in the Patriot League lead in save percentage (73.2 percent). The goalie-switching is uncommon this late in the season, but each of the Terriers' cage protectors have shined at points.
Starr said the most important aspect to improve on moving forward is to make Lehigh and other teams earn their goals rather than getting freebies off of failed defense.
"I thought we gave up two bad defensive goals [yesterday]," Starr said. "We're at a point where if a team's going to score on us we want to make them earn it, they have to beat us and we can't beat ourselves."