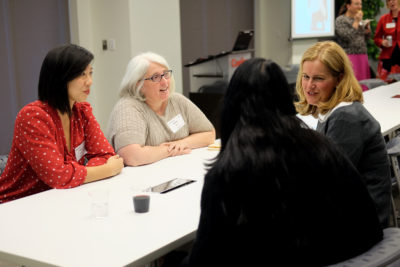 A crowdfunding platform for Boston female entrepreneurs, iFundWomen, has come to Boston in partnership with Boston Mayor Martin Walsh and Women Entrepreneurs Boston. 
Karen Cahn, founder and CEO of iFundWomen, wrote in an email iFundWomen is a fundraising network to help women-led startups and small businesses. Cahn wanted to provide women with equal opportunity to start a business in efforts to put them on the same playing field with their male counterparts.
"Every day in the United States, almost 1,100 new businesses are being started by women," Cahn wrote. "Yet there is a huge funding gap for female entrepreneurs. Women collectively only receive two to six percent of venture funding dollars and women of color only receive two tenths of a percent."
Cahn wrote if women receive funding they still work with less than half the capital men do and that she is working to help alleviate this problem.
"We launched last November and before our first year is over, we will drive well over a million dollars into the hands of hundreds of women-led businesses," Cahn wrote.
Cahn wrote she wanted to make sure iFundWomen would not only help women financially but also mentor them.
"iFundWomen should be every female entrepreneur's first stop on her funding journey," Cahn wrote. "We have coaches standing by to answer questions and to help entrepreneurs set up their campaigns."
Cahn wrote she encourages local female entrepreneurs and student-based businesses to go sign up and start their crowdfunding campaign.
"You have until January 31 to complete your crowdfunding campaign," Cahn wrote. "Fully-funded campaigns will have a chance to raise even more cash by competing for a sizable cash prize in the spring at our first ever iFundWomen Boston pitch competition."  
Kara O'Connor Miller, WE BOS program manager, wrote in an email the biggest obstacle for female entrepreneurs is their lack of funding.
"The numbers for women-owned businesses are harrowing: they receive only one dollar of every $23 loaned by commercial banks and only two to six percent of venture capital funding," Miller wrote.
Miller wrote the Office of Women's Advancement and the Office of Economic Development want to ensure equality for women in the entrepreneurial ecosystem.
"Our City's women-owned businesses employ 36,100 people and generate $3.3 billion in revenue but the barriers to launching and scaling, especially around funding, remain," Miller wrote.
Miller wrote WE BOS launched three years ago and has since grown and acquired several relationships, opportunities, resources and connections which will only grow stronger with the help of iFundWomen.
Brenna Callahan, policy and communications manager for the city's department of  women's advancement, wrote in an email Boston is an excellent city for startups and that collaborating with iFundWomen, which has aided other cities before, was the next logical step to help women entrepreneurs.
"It was a natural fit for us to partner with iFundWomen to build upon the one-of-a-kind network of resources, support, coaching and connections that the City's Women Entrepreneurs Boston program has created over the last few years," Callahan wrote.
Lorna Rivera, a University of Massachusetts Boston professor of women's and gender studies, said establishing iFundWomen Boston will not only help businesses financially but encourage more women to start their own businesses.
"It not only creates the capacity for those individual business owners but there is also a multiplier effect," Rivera said. "It creates a pipeline of leaders that will create even more businesses that other women come after."
Rivera said she thinks the iFundWomen establishing a Boston chapter will help provide funding for immigrant women included in Boston's female population.
"It is really important for them to be here in Boston and to have that kind of outreach to think about the contributions that immigrant women often make so that the diversity isn't just gender diversity but diversity by race and ethnicity," Rivera said.
Rivera is the director of The Mauricio Gaston Institute for Latino Community Development and Public Policy and said she understands the importance of funding for minority businesses.
"There are enough organizations but not enough funders, or funders that specifically focus on women," Rivera said. "Having a group that specifically works with this underserved population is super important."
Several Boston residents said they were surprised at how many businesses in Boston were women-led and believe iFundWomen Boston will help women start their businesses.
Soroush Shabahang, 35, of Brighton, said iFundWomen Boston will help women entrepreneurs, which she believes is vital.  
"Any way we can help women be more active in the society, that would be perfect," Shabahang said.
Lizzy Warner, 25, of Brighton, said she is interested in how iFundWomen Boston will affect female entrepreneurs and is surprised at the number of businesses in Boston which are women-led.
"It seems like a higher number than what I would've expected," Warner said. "If you'd asked me I would've said 15-20 percent and I'm interested in hearing more statistics around it."
Sarah Schnebly, 24, of Allston, said women entrepreneurs will benefit from iFundWomen Boston as she believes they deserve to.
"I just fully support local businesses but especially give the extra support to women who have maybe not had the extra support before," Schnebly said.