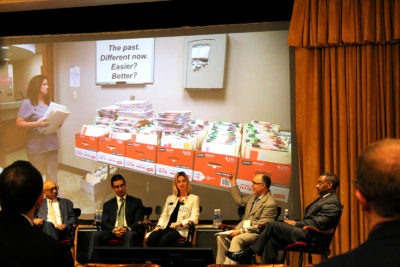 In the growing digital age, what will health care look like?
The Boston University Institute of Health System Innovation and Policy, hosted the Institute's inaugural fall conference to answer this question on Monday.
The all-day conference consisted of three sessions featuring panelists and speakers of BU professors and representatives from IBM, Philips, Aetna, Boston Medical Center, Atrius Health and more.
"These are no longer tech companies delivering products and services, but they're actively influencing the digital conservation of industries,"said N. Venkat Venkatraman, a BU professor of management in the Questrom School of Business.
"We are at the early stage of the intersection of digital and health to business model shifts," he said. "In the next 10 years, I will venture to guess that we will have a company at the top that understands the intersection of digitization and health care."
In order to make a better health care system, established healthcare companies must combine and work together with entrepreneurs and digital giants, Venkatraman explained.
"With a mix of implementation companies to deliver healthcare today, what is the set of complementary set of partners to have?" he asked. "We need an innovation ecosystem where you can step out of your comfort zone and work with companies that historically would not work."
Sunny Ramchandani, deputy chief medical officer at Aetna, spoke about how insurance companies will change in the future as well.
"The business model, today, is saying, 'You, the consumer, give me a bunch of money and I am going to be really stingy about giving your money back,'" he said. "We're trying to change that broken paradigm."
He spoke on how his own company is making this transition.
"We see [Aetna] as being a health care company rather than an insurance company … We want to encourage changes that consumers can make. We need people to engage in changing their behaviors toward their own health," he continued.
Ramchandani continued to speak about the "3, 4, 5, 7" principle where three behaviors — diet, exercise and smoking, cause the four most common diseases — pulmonary disease, cardiovascular disease, diabetes and cancer. These four diseases are responsible for 50 percent of deaths and 70 percent of health care costs.
"If I just get [the consumer] to eat better, stop smoking and exercise, we can fundamentally change health care. Innovation comes in when figuring out ways to engage people in making the right health-related choices," Ramchandani said.
He described today's doctor-to-patient model and how it needs to be changed.
"You go into the doctor's office, and he tells you to eat better, get exercise and stop smoking in as little as 40 seconds and then you're on your way. This is ineffective," he said. "We also need to find a way to learn more about each individual in order to determine ways to influence their behavior. The doctor-to-patient model and exercise trackers both failed."
Robert Dann, the portfolio marketing direct of IBM Watson Health, spoke about the future of health care in regard to artificial intelligence and data.
"We're looking to decrease inefficiencies with treatment. For example, risking $30,000 on cancer treatment that ends up not working could be better prevented if consumers were influenced in the first place to be cautious about their health," Dann said.
Adam Hirsch, a junior majoring in health sciences and following a pre-medical course track at the Boston University Sargent College of Health and Rehabilitation, attended the event seeking to learn more about why the future of healthcare will change in the new technological world.
"I like how Dr. Ramchandani spoke about changing the social and economic aspects of health care by advocating for the prevention of diseases so that it would no longer introduce the worry of paying-in and paying-out with insurance companies," he said.
Hirsch was also intrigued in the business side of health care discussed.
"I found it interesting how Professor Venkatraman spoke about the 'Frenemy' concept where companies work together rather than trying to corner a market themselves," he said.
Venkatraman himself focused on the necessary open-mindedness and innovation of technology companies to move forward.  
"We cannot rely on the past to move forward in health care," he said. "By definition, experiments at the edge cannot determine whether or not they will succeed. It will spawn other sets of experimentations, other sets of combinations, other sets of re-combinations which will give rise to new ideas and innovations for a cheaper, more efficient health care system."