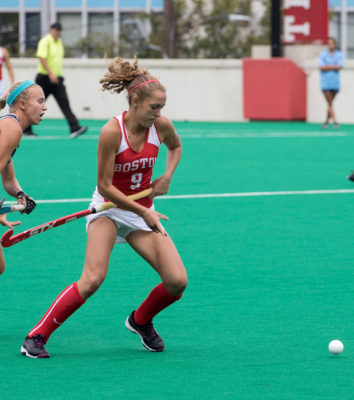 The Boston University field hockey team clinched the top seed and home-field advantage in the Patriot League Tournament with a 6-0 win over Lehigh University. Saturday's win was more of the same for the Terriers (10-6, 5-0 Patriot League), who have outscored their league opponents by a score of 26-4.
BU was dominant throughout the game against the Mountain Hawks (4-11,1-4 Patriot League), and the scoring started in the 16th minute. Senior Grace Boston scored her sixth of the season and freshman Kathryn Scheerer registered the assist.
Shortly thereafter, the Terriers doubled their lead thanks to junior Kara Enoch's third goal of the season — with junior Maika Akroyd getting the assist.
BU head coach Sally Starr once again rotated her two goalkeepers, with freshman Millie Baker starting and junior Kathleen Keegan playing the second half. It was a quiet afternoon for them both, as Keegan made two saves and the Mountain Hawks were unable to register a shot on goal against Baker.
It took until the 51st minute for the Terriers to score their third goal — this time it was senior Allie Renzi.
Starr said she is happy with how Renzi is playing this recently.
"She is working hard, this is a newer position for her," Starr said. "We put her there because we know she can be very calm in front of the goal. She is getting more used to being a striker and getting herself in the right place at the right time."  
BU put the game away in the last 10 minutes of the match, scoring three times from the 61st to the 68th minute. The first of those goals came from the same combination that scored the Terriers' second, Enoch assisted by Akroyd.
Less than three minutes later, Enoch recorded her fifth point of the afternoon, assisting on Boston's second goal of the day.
It was not too late for freshman Ailsa Connolly to add to her team lead in goals. In the 68th minute, Connolly scored her 10th goal of the season on a shot from the top of the circle.
Freshman Miya Denison got the assist of Connolly's goal, capping off a 6-0 victory for the Terriers. They outshot the Mountain Hawks 23-7 and held Lehigh to two shots on goal.  
Although the scoreboard may have looked pretty for BU, Starr said she saw some things the Terriers need to tighten up moving forward.
"It really was not a masterpiece at all. I don't think we played our best hockey today, but we played well enough to put a lot of goals up on the scoreboard," Starr said "We had four different scorers today. That has definitely been a hallmark of our forwards this year; we have a lot of different people scoring."
Starr said she is proud with her team's progress, and has confidence moving forward.
"We're a young team, and we keep getting better and better," Starr said "I am very proud that we have been able to secure the regular season conference championship with still a week remaining in the regular season."