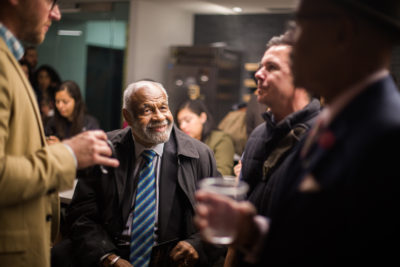 The 30by2030 Summit attracted over 300 professionals and students to WeWork South Station, a Boston coworking space, Wednesday night to discuss the importance of diversity in corporate America.
Project 99, a Boston-based leadership development company focused on diversity in the workplace, hosted the event to advocate for 30 percent racially diverse senior leadership by 2030, the company's cofounder and managing partner, Josuel Plasencia, said before the summit.
Thirty percent of Americans are black or Latino but only 3 percent are represented in top leadership positions in the United States, Plasencia said.
"Creating spaces for people to convene of a common goal is always very powerful," Plasencia said. "The more we're able to convene and complement each other and plug into each other's initiatives is how we're going to achieve the 30by2030 goal."
Justin Kang, vice president of economic growth for the Greater Boston Chamber of Commerce, said the Chamber of Commerce has significant power in leading the business community and plans to work with Project 99 to close the leadership gap.
"The challenge is, and this is what Project 99 is tackling, is that we need more representation as diverse as this room," Kang said. "No one wants to live and work in a city that has a reputation, perception or reality that is racist."
Corporate leadership must be committed to diversity for a change to be made, said Kenn Turner, director of diversity and inclusion/compliance at Massachusetts Port Authority.
"You really do get used to being the only [person of color] and unfortunately that is still far too often the case," Turner said. "If your board, your CEO, the president of your company isn't committed to diversity, I mean passionately, viscerally committed, it's not going to change, because it's all about a pipeline … it doesn't happen organically … it isn't going to bubble up from the bottom."
Maryanne Ravenel, diversity and inclusion manager at Blue Cross Blue Shield of Massachusetts, said the problem also stems from a lack of development in leadership and lack of opportunities afforded to minorities.
"A lot of the time it's the idea of people at the top thinking they have to give something up for someone else to get something and the idea of equality being 'someone's taking my seat,'" Ravenel said.
Ravenel said organizations like Project 99 give her hope for the future.
"It's hard to be very hopeful and optimistic in this time," Ravenel said. "My boyfriend is a black man. Thinking about him not coming home one night, being shot in the street one night … I found my courage and my optimism and my hope in Project 99 — organizations that say it's OK to be us and it's ok to be who we are."
Several Boston residents said they are working to close the gap within their own organizations.
Adam Valsahagun, 23, of Downtown Boston, said he works for the national nonprofit Generation Citizen and believes providing racially representative mentors for students can have an impact on their future success.
"We know that we work with a diverse group of students and it's important for us to have a diverse staff that represents our students," Valsahagun said. "The senior leadership will reflect that when we start giving people on the ground more responsibility and more leadership roles."
Maya Nitzberg, 31, of Somerville, said her organization, The Possible Project, has been working closely with Project 99 to provide high school students with opportunity and support to succeed past high school.
"Our demographic is low income people of color and so it's very relevant what they're doing," said Nitzberg. "With Project 99 we started having this conversation about 'what if we work together?' We have the students, so we can help give them the cohort of students."
Wendy Sachs, 24, of Jamaica Plain, said she attended the summit because she knows Project 99 co-founders, Yulkendy Valdez and Plasencia, from high school.
"I love seeing people from my school doing more diversity focused things, rather than product and finance focused [ventures]," Sachs said.
Sachs is a diversity consultant specializing in culture and policy for companies who are still growing but lack racial diversity. In Boston specifically, Sachs said a greater emphasis on diversity in growing businesses is key.
"I see that a ton in Boston specifically, organizations that I've been a part of and my friends have been a part of where you go from a few people in an apartment to a 30-plus person organization and it takes a diversity focus type of leadership to get your company back on track to having a decent culture," Sachs said.