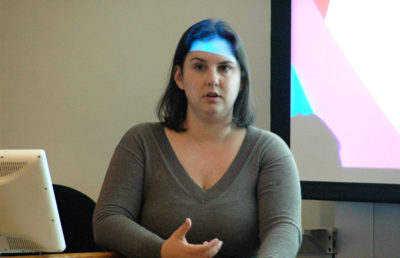 The LGBTQ community has a history of being been oppressed, ostracized and abused. Only recently have various sexualities and identities been embraced on a larger scale, starting with the first pride parade in the in 1970 as a result of the Stonewall riots.
Since then, events such as the legalization of same sex marriage on a federal level in the United States in 2015 have marked greater acceptance for people of all genders and sexualities.
Writer and speaker on LGBTQ history, Sarah Prager, recently published her first book "Queer, There, and Everywhere: 23 People Who Changed the World" in May of 2017. She came to speak at Boston University on Oct. 17 to discuss her book with the BU community.
Prager is a Connecticut resident who graduated from BU with a bachelor degree in Hispanic language and literatures in 2008 and later received a Certificate of Professional Communication from Emerson College in 2012.
Prager's new book highlights 23 true stories from queer history, including little known pieces of the lives of a large variety of individuals from different time periods, places in the world and class.
"When I was a teen, queer history helped me to get a sense of community and a sense of self,  so I wanted this book to help make that more accessible to this generation of teens," Prager said.
Among the stories included within "Queer, There, and Everywhere" was one of Christina of Sweden, a monarch during the 17th century who brought peace and education to Sweden.  Christina of Sweden could have potentially had a myriad of identities and sexualities including non-binary, trans, asexual or homosexual.
"One of the things I appreciate about the book is that it doesn't treat queer history as a niche subject or afterthought," said Ryan Weberling, a BU english grad student concentrating in gender and sexuality. "Instead, it shows how history is already queer. Prager includes figures who are well-known, but typically ignored, as well as those whose stories are unknown or forgotten."
The book also includes details about the lives of Abraham Lincoln and Eleanor Roosevelt, who Prager says are queer, that aren't widely known or discussed. The stories of lesser known queer people are also written about in the book.
"The book talks about the gay guy inventing the computer and a gay guy inventing the high five. [There's] just so many different parts of our world that, you know both of those guys had their careers ended because of homophobia, and they could have given the world more," explained Prager. "Perhaps if people realized … if we realized that they hurt everybody, not just queer people."
The author has been speaking at various high schools and colleges to share LGBTQ history and the message of "Queer, There, and Everywhere."
When explaining her book she noted, "If people don't realize the contributions queer people have made to the world, then not only will queer people have the role models that they deserve, but non-queer people won't realize these important contributions coming from this community."
In addition to writing "Queer There and Everywhere," Prager is also the creator of the app, Quist. Quist sends the user an update every day about something that happened in queer history or AIDS/HIV history on that date in the past.  Like her book, Quist is intended to make knowledge about this community more accessible and is free for all users.
"I was reading academic books and text heavy websites and really wanted to translate that content into a more reader friendly, screen-friendly, bite size way of delivering content," Prager said.
According to the Quist website, over 35,000 people from over 112 countries have downloaded the LGBTQ mobile app since its launch in July of 2013.
The writer, speaker and advocate has explored two media to share LGBTQ history, a goal she believes will help acceptance and a sense of self both in and outside of this community.
"I want to share queer history in any way I can and if I can put it into a voice that is more fun instead of academic, then I'm going to use that skill and anything else I've got to help get it out there," she said.