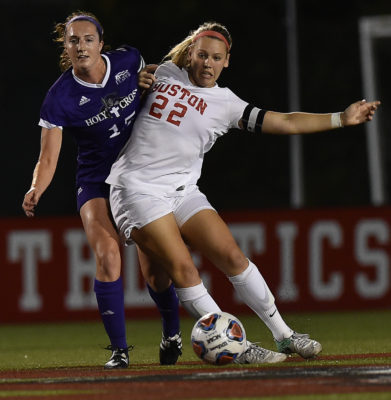 The Boston University women's soccer team defeated the Raiders of Colgate University 3-1 Saturday afternoon, locking up the third seed in the upcoming Patriot League tournament.

The Terriers (9-7-3, 6-2-1 Patriot League) hosted their annual senior day Saturday, honoring BU's veterans for their contributions throughout their careers in the scarlet and white.
"It's special because they've toiled, and academically and athletically they've worked really hard to be the best they can be as a soccer player and a student," said BU head coach Nancy Feldman, "and this is a celebration of all they've poured into it … they only get one of them, and there's a lot of emotion around it."
With a chance to secure a home game in Tuesday's Patriot League quarterfinals, Feldman stressed the importance of the match.
"It was vital, important, and it was the difference between being home and having to travel on Monday and play a game on Tuesday," Feldman said. "It's pretty significant with regard to fatigue and comfort."
Applying the same consistent aggressive approach the team has bought into throughout the season, the Terriers were able to break through early on against Colgate (9-6-2, 5-2-2 Patriot League) goalkeeper Kelly Chiavaro.
Playing in their final regular season home game at Nickerson Field, it was only fitting that the Terriers were led by their upperclassmen. Senior midfielder Jacki Carty put in her second goal of the season in the 27th minute. She followed up moments later with another goal.
The Raiders answered with a goal from sophomore forward Abby Sotomayor in the 30th minute, but this would prove to be the only shot on goal allowed by BU's prolific defense.
Feldman expressed her approval for the performance of her defensive unit all season, noting, "A focus and an attention on the detail of individual and collective defending is a big part of being a championship level team."
Feldman also commented on her team's ability to avoid disaster on the defensive end.
"If you can deal with things effectively early defensively, then you limit how many emergencies you're in," Feldman said. "Emergencies take a lot of energy, and [they] give the opponent a lot of life and a lot of hope."
With the regular season now in the rearview mirror, the team will turn its attention to the postseason.
The Terriers will face a familiar foe, Lafayette College, in their quarterfinal matchup Tuesday.
When the two teams met earlier this season, BU came out on top by a score of 3-0.
Senior midfielder Jesse Shreck, freshman forward Anna Heilferty and sophomore defender Shannon Keefe all scored in the first meeting of the season between these two foes.
The Terriers quarterfinal game will kickoff at 7 p.m. Tuesday night under the lights at Nickerson Field.
However, Feldman said she sees no reason to change the team's approach with the playoffs looming.
"We have a process, we trust the process, and we'll apply the same principles to the game on Tuesday," Feldman said.