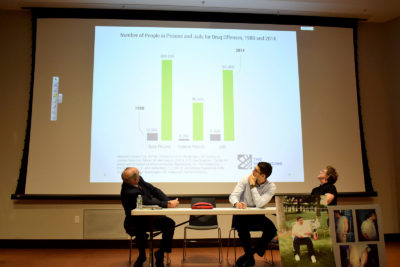 "The system sounds logical until you start peeling back the layers," said Leslie Walker, executive director of Prisoners' Legal Services of Massachusetts. The system she's talking about is the U.S. criminal justice structure and the layers are the legislation and policy that makes mass incarceration possible.
The Howard Thurman Center for Common Ground and Boston University Academy hosted a panel discussion on Oct. 25 called "Mass Incarceration: Causes and Cures," which focused on ways education impacts incarceration, prisoners rights and how to reduce the United State's prison population.
Jim Matesanz, field coordinator of Metropolitan College's Prison Education Program, Carlos Monteiro, a professor of sociology at Suffolk University, and Leslie Walker, executive director of Prisoners' Legal Services of Massachusetts, came to BU to talk about their work in this fight.
Jennifer Formichelli, an english teacher at BUA, organized the event with BUA's head of school, Ari Betof, and HTC associate director Pedro Falci. At BUA, a new program called the All-School Learning Experience centers around a core theme each year — with this year's theme being mass incarceration.
"[Prisoners are] just a forgotten segment of society — the incarcerated, and they're incredibly stigmatized, start to finish," Formichelli said.
With HTC's focus on social justice issues, Formichelli said she hopes to convey to her students the reality of life outside of a private school and inside a prison.
To start off, Walker addressed the audience by asking each person to think about the worst thing they had done. She stood behind two posters, each one depicting a prisoner she worked with. She held up a poster to the audience showing Nelson, a prisoner she worked with and told his story.
Walker described how Nelson entered prison as a developmentally disabled man arrested for unarmed robbery. He suffered from psychiatric problems that went unchecked in prison. He heard voices, spent time in solitary confinement and ended up hanging himself in his cell.
This all happened before Walker could sue his facility to establish cell blocks and proper treatment for people with mental illness, she said.
"We have known what to do for decades but the political will is not there," Walker said, regarding the conditions that inmates suffer in prisons.
Walker's work, as detailed on the Prisoners' Legal Services website, involves giving impoverished people, with or without mental health issues, proper legal representation to fight against the injustices they face at the hands of the criminal justice system.
She then asked the audience to again recall the worst thing they'd done. After ruminating on this some more, she asked another question to the audience: "Would you want to be judged on the one stupid thing you'd done?"
Many offenders, like Nelson, never have the opportunity to answer this question.
One aspect of mass incarceration that can magnify both the convict stigma and sentencing term is race. Walker said, in Massachusetts, people of color make up less than 20 percent of the overall population. But, Walker said, in the state prison system, people of color make up 58 percent of the population.
She explained that white people are also more likely to be sentenced below the mandatory minimum of their respective crimes when compared to people of color, leading to longer prison stays for people of color as well as higher incarceration rates.
In contrast with Walker, Monteiro projected optimism, outlining six steps to end mass incarceration within the next decade.
"It's no secret that crime has fallen over the past two decades, and it's creating a historical moment," he said.
The least controversial of the reforms, according to Monteiro, would be to eliminate sentences for drug crimes. A bill is up for debate in the Massachusetts State House to abolish mandatory minimum sentences for drug crimes, this measure may become a reality in Massachusetts.
But fighting mass incarceration isn't just about preventing imprisonment. Education plays a vital role, reducing recidivism rates and providing prisoners with resources to succeed in society upon release. According to Matesanz, studies show that offenders who engage in programs like BU's Prison Education Program are less likely to find themselves re-imprisoned.
But the demand for such programs is high. With swollen prisoner populations, the resource to inmate ratio is extremely low and waitlists are long. Government programs offer little help.
When the government stopped funding college education for prisoners via Federal Pell Grants in the 1990s, Matesanz said he believes that responsibility is placed upon private universities to help.
"Private institutions such as BU had to step up," said Matesanz, "and BU has continued to step up." Matesanz added the point of BU offering scholarships inmates in the program in reference to how BU has stepped up.
Coming out of the talk, Falci, Formichelli and Matesanz expressed hope that this event would leave people thinking about their role in society, how they can affect issues like mass incarceration.
"Some hope that there can be solutions," Matesanz said. "The future doesn't look as bleak."