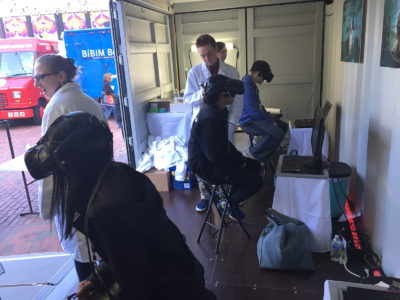 Boston Public Schools students rarely travel more than a mile radius beyond their own neighborhoods, causing them to miss educational opportunities in greater Boston. A team of college students, with the support of BU Spark!, have come together to create the app More Than a Mile.
The app not only alerts the children of educational events, but will also tell them how to get there and let their parents know that they are safe. BU Spark!, the developer, is based at the Hariri Institute for Computing, and has been nurturing student innovation in computer science since its opening last year.
In teaming up with Boston Public Schools, the More Than a Mile app aims to benefit the BPS students and families, as well as supporting the growth of computer science initiatives.
"The goal that is achieved through this project is providing students with an opportunity to apply their skills in real-world settings while deepening our relationship and positive impact on the city of Boston," Ziba Cranmer, director of BU Spark!, said.
Cranmer said that she has "deep connections in the city from growing up in the South End of Boston."
BU Spark! puts out a general call for projects each semester, and Cranmer said she thought this project would be a great way to give back to the city and to create an innovative new app.
The feeling was mutual, as Makeeba McCreary, managing director and senior advisor of external affairs for BPS, told Cranmer of the department's eagerness "to partner with BU Spark! And its talented community of computer science and engineering students to prototype innovative solutions in service of [the district's] educational mission and the students of Boston."
Vardaan Aashish, a computer science senior in the College of Arts and Sciences, has been working on this project since its conception in May 2017.
"We spent the first month and a half, at least May and most of June, just having meetings with BPS, BU Spark! and thoughtbot," Aasish said.
In May, Aashish was working with two students from Wellesley College, and since then, many other students and BU Spark! employees have pitched in on the project.
As far as the technology, Aashish mentioned that there was an "extremely steep learning curve." The team worked with React Native, a technology used to make apps using only JavaScript.
This system worked for the More Than a Mile team because they could create one app that would function on both iPhones and Androids, instead of writing code for the two different systems.
Multitasking proved to be essential for Aashish and his team — they studied React Native extensively while simultaneously writing the code base for the app.
The team used Boston's HUBweek, a science-based series of events, to test-run the new app. They put together a focus group of BPS students and put all of the HUBweek events into the digital prototype three weeks ago.
The prototype allows students to find events based on their interests, invite friends to the events, and even gain school credits through their city as a classroom transcript. Students can use a map to get to the event, and their parent or guardian is notified when they get to the event and when they leave.
Both Cranmer and Aashish said they were pleased with the initial app prototype. By late December, the next phase of the app will be released. This version will fix any glitches and add or remove features based on the initial feedback from the app.
Aashish said he was happy with the response of the students, who immediately shouted out which events they wanted to attend.
"Initially I could say I was inspired by helping them, but that was when I truly felt it. Because who doesn't want to make the world a better place, right?" Aashish said.
He said he finds fulfillment in this app and is excited to work on it more.
"I really like doing this, because if an app can get people out of their houses and into the city to actually experience something real, of course I'm going to spend all my nights working on it and making it happen," Aashish said. "A lot of people don't get the chance to see it and feel it in the way that I did, and I'm very grateful for that."