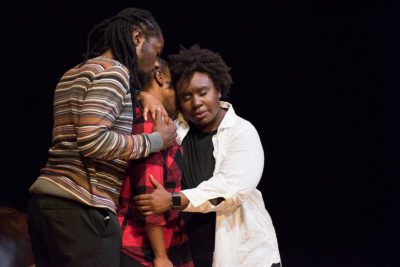 Four dancers, illuminated by dim blue light and dressed in white and silver, cast shadows onto an image of the moon behind them as they moved to a spoken word piece. It was part of a performance called SPECULUM, a show in last week's OUT'hood FEST that featured LGBTQ artists of color.
Black Venus, an artist who graduated from Boston College in 2015, directed the show and performed alongside Ny Wallace, Destiny Polk — known as Radical Black Girl — and Arira Adeeke.
The performance told their experiences as black queer individuals through dance, song, poetry and video. OUT'hood FEST included four more shows spanning from Saturday to Tuesday.
The Theater Offensive, a group that advocates for and presents diversity within the LGBTQ community, created the festival this year to support local queer artists of color and provide an outlet to share their work, according to Evelyn Francis, the director of programs.
"We said, 'Well this would be a huge risk for us to work with local artists [and] the works that they would like to do and it would be a huge opportunity for us to put this dream into action,'" Francis said.
The Theater Offensive worked in coordination with Hibernian Hall and funded the festival with grants from the Barr and Klarman foundations. They also used the grants to create the OUT'hood residency program to support artists for the festival.
The Theater Offensive selected seven residents, five of which showed their works at the festival. The five artists included Black Venus, Laury Gutierrez, Elizabeth James, Eddie Maisonet and Billy Dean Thomas.
Gutierrez created "Divine Sisters," James wrote "Uncommon Ties," Maisonet created "The Boston QTPOC Mixtape Project" and Thomas directed "Rocky Barboa." The performances covered a broad range of art forms, including plays, hip-hop music, a Latin-Baroque music fusion, dance and poetry. Each artist addressed their personal obstacles as queer artists of color.
"[The Theater Offensive] wanted to be at the forefront of presenting the work by artists who were investigating and exploring the intersections of their identity," Francis said.
According to Joseán Ortiz, the community programs manager at The Theater Offensive, the group has shifted their focus in recent years toward people in the LGBT community who receive less support. Ortiz said with the current government administration, their mission holds more importance.
"What we're doing, now we have to do it with more emphasis," Ortiz said. "We are living again with moments of insecurity and uncertainty in terms of support to the arts in general, but specifically for the LGBTQ community support and rights."
Venus' show addressed LGBTQ oppression within the black community and national issues, including the high murder rate of trans black women and the lack of attention towards problems LGBTQ people of color face.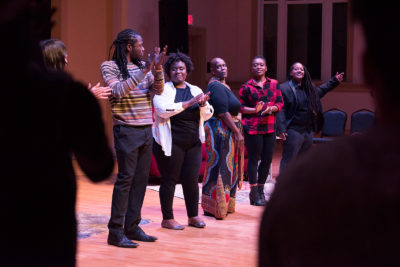 Jeté Thames, 25, of Somerville, said she teared up when an artist at SPECULUM talked about feeling invisible.
"I felt so oppressed in being at my college and being black and being around a lot of environments where I didn't feel welcome," Thames said. "I've been comfortable with being invisible … but as she said, the idea that there's another person that needs your story was something that opened my eyes."
Thames said she believed it was important to discuss intersectionality because the black community is already excluded from many atmospheres.
"This is another layer of an issue on top of the injustice that's happening," Thames noted. "When I was in college, the black struggle on top of being queer was … you had to deal with being black first."
Ortiz said he found a supportive community in The Theater Offensive 20 years ago where he could embrace being queer.
"[The Theater Offensive] helped me to figure out who I am, to find my voice and to give my confidence to develop my leadership in what the company is continuing doing," Ortiz said.
When Francis came out, she said she obligated to fulfill the lesbian butch stereotype, but after finding people similar to her, she embraced her femme self.
"What I think this festival does given the variety of work that's being presented is that it provides an opportunity for folks to see themselves –– to hear their own stories told by artists that live next door to them that are their neighbors," Francis said.
Francis said issues the queer community faces cannot be addressed without looking at structural racism. She hoped the festival would open attendees' eyes to this while providing a supportive community for LGBTQ people of color.
"We feel like folks that are struggling with racism every single day and can speak to it from their own personal experiences need a way to speak to other folks who are struggling with it," Francis said. "We hope that this festival is a way that that dialogue can happen and that the structural racism can be combatted."