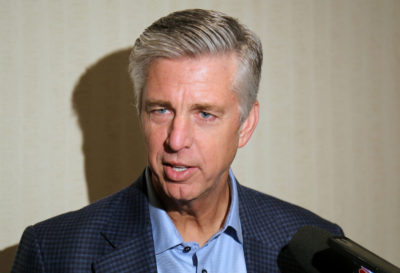 If you listen closely, you can hear it. It's just a faint sizzle right now. Very soon, it will ignite into a full-blown blaze.
That's right. I'm talking about the Hot Stove. The baseball offseason. The span of months between the final out of the World Series and Spring Training, when most sports fans forget about America's Pastime, and baseball nerds like me fully devote ourselves to trade rumors, award predictions (stay tuned for mine…), and premature season previews.
When you follow baseball as religiously as I do, there is no offseason.
In executive offices across the country, as the Houston Astros showered themselves with championship champagne, the other 29 teams began preparing for the 2018 season.
For the Boston Red Sox, work for 2018 began even sooner.
The Sox were eliminated from the playoffs, by the Astros no less, on Oct. 9. Less than a month later, the Sox already have an entirely new coaching staff. From new manager Alex Cora to other members of the coaching staff, and bringing in a new vice president and special assistant in Tony La Russa, Boston has a completely new leadership corps.
With those administrative decisions out of the way, Dave Dombrowski, Sox president of baseball operations, can turn his attention to his on-field talent.
The 2017 Sox were good. They won 93 games and featured excellent hitting and pitching. But as we witnessed in their short four-game playoff stint, the BoSox were not good enough. Several core players regressed offensively, exposing a lack of communication and leadership from then skipper John Farrell. In a sports town like Boston, fans expect better.
Dombrowski knows this. In his short tenure at the helm, he has signed David Price to a seven-year deal, traded for superstar pitchers Craig Kimbrel and Chris Sale, and bolstered the rotation and lineup with lower-profile names such as Drew Pomeranz and Mitch Moreland. Dombrowski is not afraid to lay out serious money or part ways with top prospects to improve his team. He is exactly who the Sox need pulling the strings.
This offseason, Dombrowski has big issues to address.
First and foremost is solving the power outage of the 2017 Red Sox. Boston finished dead last in home runs in the American League with 168 bombs, compared to New York's league-leading 241.
First, Dombrowski will look for a return to excellence from his young core — The Killer B's of Mookie Betts, Xander Bogaerts, Jackie Bradley Jr. and Andrew Benintendi.
With a new young manager who will aim to get more out of his players, it is fair to expect more out of the Sox hitters next season.
But where will those additional 30-40 home runs come from? There are several options.
The Sox could sign a free agent, such as slugger J.D. Martinez, who crushed 45 homers in 2017. Martinez, 30, would come at a hefty price, and as an outfielder, would not have a clear place in the Sox lineup, unless the Sox trade Bradley or convert Martinez to first base. But he would be a surefire solution.
There's also Eric Hosmer. Only hitting 25 homers, he is younger, cheaper would be an excellent fit at Fenway, and offers elite defense at first base. Hosmer, 28, is respected as a leader, and could excel in Boston.
Finally, there's the nuclear option: Giancarlo Stanton. Stanton demolished 59 home runs with 132 runs batted in in 2017, and always seems to be the subject of trade rumors. He's only 27, but has a massive contract attached to him. The deal is back-loaded, meaning the annual salary will steadily rise, reaching a peak of 32 million in 2023-25. Money aside, Stanton has otherworldly power.
If the Sox were to trade for Stanton, it would involve giving up quite the package. The Marlins, and their new owner Derek Jeter, would likely seek Benintendi, a young and major-league ready pitcher like Eduardo Rodriguez, and a handful of top-tier prospects. While this is obviously speculation, one thing is clear: the price will be steep.
If it were up to me, I would avoid Stanton. Yes, his 59 homers would look nice at Fenway. But after bleeding the farm system dry to trade for Sale and Kimbrel, I would like to see the Sox keep their young core intact. Benintendi and Betts are both superstars, and I would much rather have that duo on my team for the next 10-12 years than 5-8 years of an expensive Stanton. If it were my call, Hosmer or Martinez would top the list.
Beyond the missing power piece, the remainder of the Red Sox roster appears in decent shape. Sure, there will be minor moves to fill holes; the Sox need a new backup outfielder, more bullpen depth, and a stopgap at second base as Dustin Pedroia rehabs, to name a few. But beyond those moves, the big-ticket item is the David Ortiz-sized void that remains in the lineup. Once that problem is solved, the Sox will be in fantastic shape.
No matter what happens between now and Feb. 13 when pitchers and catcher report to Spring Training, this offseason is bound to be an exciting one. The Sox have new leadership, and a refreshed, youth-filled dedication to return to greatness.
I can just barely start to hear the dull crackle of the stove. But fear not. Dombrowski is not one to shy away from adding fuel to the fire.