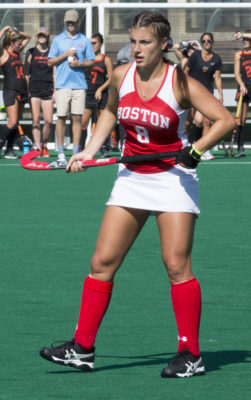 The Boston University field hockey team won the Patriot League Tournament Sunday, beating the Bucknell University 2-1. The Terriers (13-7, 6-0 Patriot League), came from behind courtesy of two second half goals.
As winners of the Patriot League, the Terriers earn an automatic berth as one of 18 teams in the NCAA Tournament. BU was drawn into a play-in game against the Fairfield University Stags.
Winners of the Metro Atlantic Athletic Conference, the Stags (9-11) are being outscored by their opponents by an average of .6 goals per game. They are led by graduate student Hannah Pike, who scored five goals in the two wins of the MAAC Tournament including both goals in a comeback victory over Monmouth. Additionally, senior Andrea Soler has eight goals and senior Jaclyn Gallagher has seven assists.
The third-seeded Bison took a 1-0 lead over BU in the first half of the championship game when Leah Fogelsanger redirected a shot from Mackenzie Haney. Fogelsanger's third goal of the season shocked the Terriers, and then BU dominated the rest of the game.
Head coach Sally Starr told her team at halftime to say confident.
"We did a lot of good things [in the first half]. I think we were forcing the ball up the middle and we needed to take care of their right side," Starr said. "Their right side attack was really dangerous in the first half. We made a few adjustments tactically defensively and we handled their right side much better in the second half."
BU finally was able to break Bucknell's goalkeeper Emily Finn with 16:40 remaining in regulation. When sophomore Kiley Gallagher, who opened the scoring Friday against Holy Cross, tied the game for the Terriers off a corner. Junior Ally Hammel registered the assist.
Gallagher was involved once again, this time intercepting a Bucknell pass and passing to senior Allie Renzi who found the back of the cage.
This was the fifth goal of the season for Renzi, who was happy to score after being denied the tying goal in last year's Patriot League Tournament final game defeat to American University.
"It was a little bit of revenge from last year when the American goalie made an incredible save to decide the game," Renzi said. "I was not missing this year."
And she certainly did not.
The last time both the Terriers and Stags participated in the NCAA Tournament, they played each other in a play-in game at New Balance Field in 2015. The Terriers won 6-1, with goals from then-freshman Ally Hammel and then-sophomore Kali Shumock.
The game is scheduled for 1:00 p.m. on Wednesday at New Balance Field. The winner moves on to face undefeated University Connecticut on Saturday.
Shumock was awarded the Most Valuable Player in the Patriot League Tournament this season.
Starr said she thought it was well-deserved.
"Kali is a workhorse. She is defined by a high workrate offensively and defensively. She's a tremendous athlete with great instincts," Starr said. "She is just a great athlete and you can see the athleticism and that competitive fire and the instincts to be in the right place at the right time."