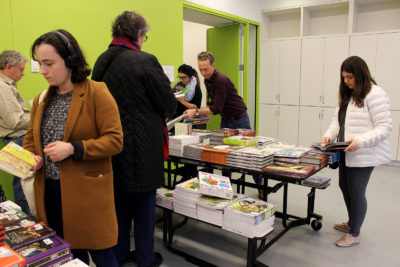 Hundreds of art enthusiasts flooded the first MFA Artisan Market and Book Sale on Saturday and Sunday. Vendors displayed a range of goods from socks with unique designs to jewelry, blown glass decorations and more.
The MFA plans to make the market an annual event, according to Ellen Bragalone, director of retail operations at the MFA. The market included 14 vendors and a room full of books on sale, which covered topics like art, cooking and other creative activities.
Most of the artisans who participated in the market had worked with the MFA in the past, and Bragalone said the MFA hoped the event would bring recognition to the artists.
"[We're] just kind of celebrating the artists," Bragalone said. "It's not just about how many [vendors] can we get in there [and] how much are we going to sell, it's really [about] presenting some beautifully crafted pieces."
Kevin Deauseault, who works for Luke Adams Glass Blowing Studio, found that the fair helped expand their customer base.
"It's a versatile crowd — a lot of eccentric people and eclectic people — and that's a good thing," Deauseault said. "That's the kind of people interested in the kinds of products that we have and the things that we do."
Although the MFA's gift shop already sold glass pumpkins from the Luke Adams studio, Deauseault said he enjoyed being able to converse with the customers and tell them about the glass-blowing classes they offer.
"It's nice to be able to reach people in a different way," Deauseault said. "[They] wouldn't know about the classes unless I'm handing them a card telling them about it. I think that's a real impact."
Dayna Ambrosio, a 19-year-old student at Berklee College of Music, attended the market and said she appreciated talking with the people who make the goods she purchases. Ambrosio compared shopping for socks at the market to places of mass production like Marshalls.
"When you're meeting the people who make and put their effort into [the goods], it's a level of personal connection," Ambrosio said. "When I buy a pair of socks here, it's from the MFA, and I had a cool conversation with the guy who was selling them."
Deauseault said he liked working next to and talking with other artisans and found himself admiring the sweaters of another vendor, who was stationed across from him.
"It's cool to see people interacting and just mingling and seeing the kind of camaraderie between the vendors and things like that," Deauseault said. "[It's] kind of scratching each others' backs a little bit and helping each other with sales, and just seeing everybody's stuff."
Caroline Whitaker, 18, also a student at Berklee, has gone to many flea markets and said this event reminded her of those. However, she said the artisan market was more sophisticated and the craftsmanship was of higher quality than a flea market.
"You can go right out here and see works of art that are hundreds of years old that have been looked at by so many different people, and it's like, 'Ah, I just bought something from here,'" Whitaker said. "It's cool to see."
Deauseault said he believed that some museumgoers who would not have come to the market otherwise stopped in after passing. He hoped the market had a positive effect on them.
"As busy as it is, even in here, there's even more people out there, so it's really cool to see people … poking in just to check it out," Deauseault said. "All it takes is that one person to poke in and check it out, and I'm telling them about glass blowing classes, and maybe that starts something."
Ambrosio said she enjoyed the market and she would attend another one hosted by the MFA. As someone who likes art and events like flea markets, she said she appreciated the combination.
"It's cool because you come here to see art, and you can't really touch it, but you can admire it, and here it's like you can buy it and take it home," Ambrosio said. "It's different because it's art worked on by people who are selling it to you."