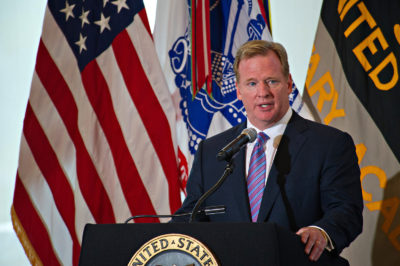 Some may have known that October was Domestic Violence Awareness month, but if you are like me and the majority of your media consumption is sports-related, this may have never come to your attention.
After a month of watching sports, I never heard those words —"Domestic Violence Awareness." And Sunday after Sunday, I watched every play from every game that I could, just like I've done ever since I could remember, not knowing.
But something was different this October though.
Pink. Where was all of the pink?
This season the NFL wanted to broaden its cancer awareness campaign, no longer focusing solely on breast cancer and the color pink. Instead, they created a campaign called Crucial Catch, that uses other colors to raise awareness and money to fight multiple types of cancer.
While I admire the choice to broaden the outreach for their cause, the league continues to actively choose to not address some of the most notable stains on NFL's beloved seal: domestic violence.
It has been over three years since Ray Rice's third-degree aggravated assault charge and subsequent two-game suspension. It wasn't until the video displaying what we had already known was leaked that NFL Commissioner Roger Goodell handed out longer suspension lengths for domestic violence incidents.
Goodell decided to set domestic violence suspensions at six games. However, since the new policy was put in place in 2014, the league hasn't even been following their own rules.
Jets receiver Quincy Enunwa was arrested and charged with simple assault. He was suspended for four games. Packers tight end Andrew Quarless was accused of firing a gun in the air while arguing with a woman and was suspended for two games. Former Giants kicker Josh Brown was arrested on a misdemeanor domestic violence charge. He was suspended for just one game.
While the NFL high-handedly waves its policy in the public's eye, it is all in order to fabricate improvement to the league when in reality, there isn't "policy" at all.
Which leads me to Cowboys running back Ezekiel Elliott. Elliott was suspended six games by the NFL for domestic violence at the start of the 2017 season. But since then most of the conversation surrounding the events has switched to the NFL's botched investigation and punishment of Elliott.
Elliott played for all of September and October as his suspension was delayed by the courts. Until this week, when a federal court in New York denied the NFL Players Association's request for a preliminary injunction meaning the six-game suspension is back and the Cowboys' star running back wouldn't be on the field Sunday versus the Kansas City Chiefs.
Or so everyone thought until the second U.S. Circuit Court of Appeals granted a request for an administrative stay, meaning he did play versus the Chiefs and continues to avoid his punishment legally. The presumed final ruling on his case will take place this week and supposedly will decide the fate of his season.
But the fate of his season isn't what is important here. This is a case with plenty of evidence against Elliott and one where the NFLPA was barred from access to interview notes and the victim during the appeal process, only furthering the idea that we should all be questioning the trustworthiness of the NFL.
Incident after incident, selective enforcement of the NFL's vague policy has been used. A policy which is so unclear that we don't know what or how much evidence the NFL needs to see to be able to suspend players for violating the CBA.
And while some call for praise for the league for partnering and donating to the National Sexual Violence Resource Center, the California Coalition Against Sexual Assault and the National Alliance to End Sexual Violence, along with attempting to educate players about violence against women — I say it has been all for naught.
The millions of dollars in financial contributions pale in comparison to the billions of dollars of revenue each year for the league and millions of dollars that the league has spent fighting in court to preserve their power.
Rather than flaunt its charitable work during moments of crisis in order to grab some good PR, the unparalleled visibility of the NFL provides them the opportunity and platform to be proactive and at the forefront of these social discussions that we as a society need to be having.
Instead, the NFL should double down on their promise to get it together after the Ray Rice incident.
Launch more campaigns like "NO MORE" rather than let them fade into the background. Spend less money in court and spend more money educating every player and providing them with more helpful resources, not only in regards to domestic violence but for mental health, financial assistance and other programs to benefit the wellbeing of your employees. And most of all the NFL's punishments need to become more clear, consistent and transparent.
So while we spent this past October avoiding at all cost yet another NFL domestic violence case, let's hope for a future October where the NFL takes steps to right their wrongs.