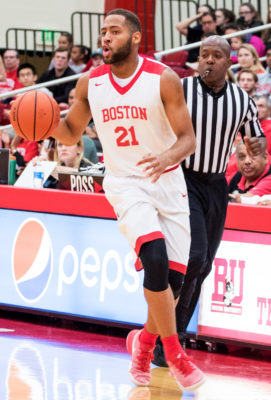 The Boston University men's basketball team has made a habit of reaching expectations since entering the Patriot League. In each of their four seasons in the conference, the Terriers have either matched or finished better than projected in the Patriot League preseason poll.
Now, they only have one team to beat to get to the top of this season's preseason poll, finishing second to Bucknell University in the rankings while still pulling two of the 20 first-place votes.
The question is, does BU have the power to remain at the top of the Patriot League this season after finishing tied for second place with Lehigh University last year?
But this year, the team lost their top two scorers in Eric Fanning and Justin Alston, and the Terriers are coming in with a few injuries, which begs the question, who will step up?
"We have been so banged up [recently], it has been hard to piece the team together," BU head coach Joe Jones said. "We've had so many injuries. It has just been constant."
Despite facing the injury bug heading into the year, the Terriers welcomed an exciting group of freshman to The Roof this summer, featuring 6-foot-6-inch, 210-pound swingman Walter Whyte.
"Walter was very conscious to try to go to a place where he was going to get a great education," Jones said. "He had a strong relationship with the staff. The proximity to his mom [because] his mom getting to see games was important to him."
Whyte has already compiled an impressive resume before stepping foot onto a collegiate court. He was the lone mid-major school commit to participate in the Jordan Brand Classic at Barclays Center in Brooklyn this year, playing alongside University of Kentucky freshman Jarred Vanderbilt and Mitchell Robinson, who has decided to forego college basketball to prepare for the 2018 NBA Draft.
"It is too early to tell how he fits in, but he is very coachable," Jones said. "He plays very hard for a young guy. He wants to be good [and] he is a great teammate. He's got a lot of positive attributes."
The Terriers added two New England prep school standouts to their roster this year — guard Javante McCoy and center Sukhmail Mathon.
Mathon is someone who does not have to worry about size being a detractor. The 6-foot-10-inch, 225-pound player earned his way onto the Division 1 scene by muscling his way through opposing defenders in his two seasons at the Holderness School in New Hampshire.
The Pennsylvania native recorded over 1,000 points during his time in New Hampshire, playing his way up to the 34th spot on the New England Recruiting Report's regional rankings for the Class of 2017.
As the tallest player on the team, Mathon may receive consistent playing time if the Terriers' rebounding lapses. At the forward/center spot, the team will be relying on two 6-foot-8-inch players to play in their backcourt — senior Nick Havener and sophomore Max Mahoney.
Although his playing time decreased from 21 to 16.7 minutes per game last season, Havener wildly improved his shooting percentage from just below 50 percent to around 64 percent. His 5.4 boards and 0.5 blocks per game each ranked 13th in the Patriot League, as Havener's impact on the team grew as the season progressed.
Mahoney made a splash in his freshman year despite playing only averaging 12 minutes per game. He carved out a reputation for himself as a high-energy performer, providing multiple enthusiastic finishes at the rim while shooting just under 60 percent from the field.
On the wing, BU will need senior Cedric Hankerson and sophomore Tyler Scanlon to continue to develop as outside threats. In 31 appearances last season, Hankerson was third on the team in scoring with an average 9.6 points per game. However, his three-point percentage dipped towards the season's conclusion, as he shot 33.5 percent from deep, below the team average of 35.4 percent.
Much of the team's ability to put up numbers on their opponents will depend on Hankerson's ability to take that next step. The team struggled to score in contests where Hankerson failed to record a three-pointer last season, such as in a 67-58 loss to Colgate University in January where he went 0-for-5 from deep.
Scanlon finished second on the squad in three-point shooting in his first year with the team, hitting 40.4 percent of his deep attempts. Without Fanning ahead of him, Scanlon should expect to spend a lot of time on the wing. If him and Hankerson are able to step up as legitimate three-point threats, the Terriers could morph into one of the better outside shooting teams in the Patriot League.
Lacking one commanding superstar, the team will have to rely on contributions from a number of players in order to compete for a conference title.
"They play unselfishly," Jones said. "We have a chance to be a really good team. We play together on both sides of the ball. I like the team attitude, and we have had good practices on a consistent basis. It is a mixed bag of tricks with five seniors and seven freshmen and sophomores but I like where we are going."