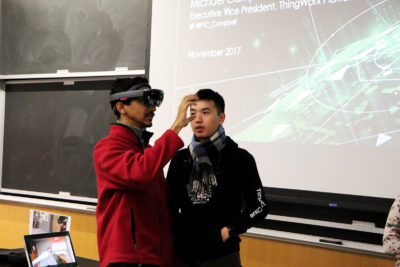 For Michael Campbell, a Boston University College of Engineering class of 1994 alumnus, "being able to see your stuff making an impact is very rewarding."
Speaking at the first "Terrier in Tech" event hosted by BU's Augmented Reality/Virtual Reality club last Wednesday, Campbell showed off the capabilities of AR currently, with its applications in training, marketing, sales and manufacture already in use by major companies.
Campbell is the executive vice president of the ThingWorx Industrial Innovation Platform at Needham-based tech company PTC. Working at the forefront of what is promising to be the next wave of technology, Campbell emphasized that AR's relevance isn't limited to tech firms — its impact will be felt by individuals as well as the global corporations.
"We had web, we had mobile — this is the next technology wave, and it is an entirely new language of communication that makes information clearer, more compelling, more engaging and less ambiguous," he said.
His talk focused on technology, specifically explaining why this technology is important for everyone from a high school student to their grandma.
"[Campbell is] very inspiring, down to earth and a visionary," Courtney MacDonald, technical sales specialist at PTC and ENG graduate, said. "He's able to see the bigger picture instead of going into the weeds where others might."
Campbell has been with PTC for 22 years, and whether it's discussing global technology trends or replacing the brake pads on an AR motorbike, he said he is eager to speak about every subject with enthusiasm.
"I can imagine that in five years, augmented reality will simply have exploded … I'm really excited to be part of the group that's driving that," he said.
AR isn't just increasing revenue, it's helping people — it's being used in the thermal imaging of veins, improving blood sampling accuracy by 45 percent — and this is just the beginning, he said.
"When you see it in action, it's like you're in Harry Potter," Yunyu Zhang, a senior in the College of Arts and Sciences studying computer science, said.
Campbell explained that AR alone is not enough to impact lives meaningfully and is fascinated by the potential the technology holds.
As part of his participation with "Terriers in Tech," he described one of the newest answers to the ever-expanding question of AR. AR can currently show how to augment reality, but not what to augment reality with. The "Internet of Things" — our myriad of electronic devices that are constantly recording information from the physical world such as steps or heart rate — can collaborate with each other as AR steps in and applies meaningful information to the physical world.
Campbell described how he used his BU engineering education to venture into the world of the budding AR technology, and he encouraged the public to embrace the technology. The choice to venture into this field was an easy one, he said.
"I love the idea of being able to do something on the software side, that literally tens of thousands of companies can benefit from … If it makes somebody's job easier, or if it makes somebody's job safer, or if it makes their relationship with their customers better — that's a huge part of the role," he said.
If Campbell were not into technology, he said he would still use his knack for development in mediums that are more physical than augmented.
"I would spend my time building things, likely, out of wood," said Campbell. "I enjoy woodworking, I enjoy doing home improvements and home renovations … I spent my career building bits and bytes, and while it drives tremendous value, there's nothing to hold. That's really rewarding to me — to build something and have it finished and to say 'There! I did that!'"
CORRECTION: In a previous version of this article, the caption for the photo incorrectly identified Mithil Raut. The current version reflects this change.