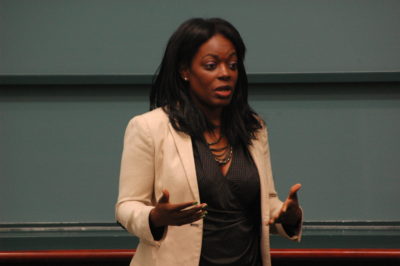 Fashionable exercise wear for women who bike to work and don't have time to change clothes. A crowdfunding service geared specifically toward students. Vending machines built for products from food startups.
These were just a few of the ideas presented at "Pitch and Pizza Competition," which was hosted by Boston University's BUzz Lab on Friday night in the Questrom School of Business.
Teams of entrepreneurs were given one minute to present their startup concepts to a panel of four judges and a crowd of spectators that filled the classroom. Afterward, judges questioned the contestants about their business ideas and offered advice and criticism.
"It's an invaluable experience to take their idea that they've been keeping close to them and exposing it to the sunshine and seeing what people think about it," Ian Mashiter, director of entrepreneurship activities at Questrom, said.
Mashiter organized the "Pitch and Pizza" in conjunction with the BUzz Lab's New Venture Competition, which awards over $100,000 to entrepreneurs.
Friday's contest was a preliminary event, during which five teams were selected to advance to the competition's next round. More contests will occur within the next few months so those that didn't qualify can try again.
"This is a very inclusive competition, so we want to see as many people have the chance to pitch their idea as possible," Mashiter said.
The competition is not only open to Questrom students — Friday's contestants included undergraduate students from a variety of BU colleges, as well as graduate and MBA students, some of which came from nearby universities. They ranged in age and experience from freshmen to current faculty alumni.
Daylin Frantin, a junior in Questrom, pitched one of the five winning ideas at the competition. He is the chief financial officer of Flux Marine, which is a business that designs, markets and manufactures electric boat motors with zero emissions.
Frantin said he spent roughly five hours rehearsing and memorizing the information to respond to the judges' possible questions. The hardest part of the process, he said, was condensing the pitch to meet the time constraint.
"They put us through a lot at Questrom to make sure that we're prepared to speak in front of people, and I've had a lot of experience doing this before," Frantin said. "At first you get a little bit nervous, but then as soon as your mouth starts moving, it's pretty much muscle memory at that point."
His training allowed him to continue his pitch despite the creaking of chairs, ringing of cell phones and spontaneous coughing fits, he said. It also helped him to answer the judges' questions, which he said were thankfully on topic.
In the past, Frantin said, he has received unrelated questions from judges, which, to him, meant that his pitch wasn't clear enough.
"Every bit of the process is exciting, and I look forward to going to the next round," he said. "It's always a battle, so if you want to be successful you have to keep going through these up and down emotions of being nervous and then being hopefully excited in the end that you accomplished something."
Competitors who didn't advance to the next round still benefitted from the experience, Mashiter said. They were able to see what type of questions judges may ask in the future in addition to practicing creating and giving pitches. They also had an opportunity to network during the post-competition pizza served in the Questrom atrium.
Practicing and repeatedly giving pitches, Mashiter said, helped him launch two of his own startup businesses, and he hopes this experience provides similar benefits to all of the contestants.
Mayank Jaiswal, a second-year MBA student at Questrom, said this type of pitching practice helped him to start his own company in India. He currently interns at BU and was one of the main organizers for "Pitch and Pizza."
"Just having that feedback from the judges and being in touch with other people who will be moving on, then defining their idea and then maybe coming back and having this experience of already pitching here will help [contestants] a lot," he said.
Current and prospective competitors can utilize the BUzz Lab's resources, and Mashiter offers his own personal mentorship and support.
"It's not my job to tell them what to do, but it's my job to listen to them and give guidance and help them work through difficult times," he said.