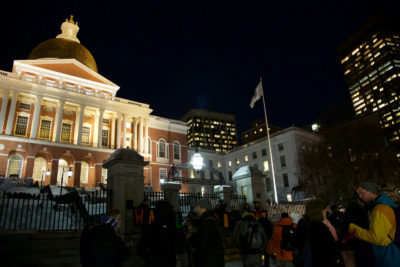 The Massachusetts Senate unanimously passed comprehensive legislation Thursday that requires higher education institutions to strengthen their policies relating to sexual assault and domestic violence.
The bill, An Act Relative to Sexual Violence on Higher Education Campuses, pushes to empower survivors by increasing visibility and access to resources, thus allowing them to make informed decisions, Sen. Michael Moore, presenter of the bill, said.  
In light of the recent rollback of federal protections under Secretary of Education Betsy DeVos' administration, this bill serves to fill that void, Moore said in a press release from his office Thursday.  
A key component of the bill is mandatory sexual violence training for campus staff involved in sexual assault investigations to ensure they are well-equipped to handle these matters, and prevent negative experiences for all parties involved, according to the release.
The measure also calls upon colleges to integrate prevention and awareness training — including domestic violence and sexual assault training — for students, which would help to enhance bystander strategy, Moore said.
Because of this legislation, Moore said colleges are now mandated to have confidential advisors who inform survivors of their rights while also respecting their privacy.
"The confidential advisor cannot go to the school and trigger a Title IX investigation unless the student or victim requests or allows them to," Moore said.  
Other provisions of the bill require colleges to establish relationships with local law enforcement and an off-campus rape crisis center so students have access to various reporting options, Moore said.  
"They can go straight to law enforcement or … they can go to the school to lead an investigation, but they don't have to notify either one of them," Moore said. "They can go to a rape crisis center to try to get help in this time of crisis that they're going through."
Moore said the bill additionally aims to balance the rights of the accused by providing due process protections to the respondent.
"[The bill] also adds some due process protections for the accused, for the respondent, because what it does now is there's nothing now that mandates the school has to tell him what his rights are, the evidence, what evidence can be used against him," Moore said.
Katia Santiago-Taylor, manager of system advocacy for the Boston Area Rape Crisis Center, said she expects the legislation will foster a healthier environment for survivors to recover from their traumatic experience.
"Having access to information, to resources, to the policies and the services, it will most definitely promote healing," Santiago-Taylor said.
A possible effect of the bill may be an increase in reporting of incidences of sexual violence, Santiago-Taylor said.
"By setting some clear guidelines and policies of what will happen while also making sure that staff at the higher ed institutions are properly trained, it has a chance of increasing the reporting because people know what to expect," Santiago-Taylor said.
The Association of Independent Colleges and Universities in Massachusetts supports the legislation in its efforts to improve existing campus policy on sexual violence, according to a press release from the group.
"As the legislation moves forward, we look forward to continuing to work closely with the Legislature as we seek improvements to this bill to ensure it builds upon this important work," the association wrote in the release.
Several Boston area college students expressed varying degrees of support for the bill.
Marisa Thomassie, a senior at Northeastern University studying human services, said while she believes the legislation falls short of bringing major changes to current college sexual violence policies, she supports the more flexible reporting policy it offers.  
"I did like the part where it tried to make less reporting things mandatory because one challenge with working with survivors is that oftentimes, people don't want to report things because it's so personal," Thomassie said.  
Jacqueline Novy, a Berklee College of Music freshman majoring in voice principal studies, said efforts to increase access to information are well-intentioned but may, in reality, intimidate survivors.
"It's good that they're trying to make sure that people are informed of what happens and how they're trying to make sure that everybody can do it anonymously if they could," Novy said. "If I were ever in that situation and had to go through all of that, it would be a lot of information to process so I wouldn't necessarily want to do that."
Rafi Nizam, a freshman studying sociology at Northeastern University, said while strengthening of sexual assault and domestic violence policy is vital, a cultural change is needed as well.
"In terms of implementing it and making us aware of it … it could be better done," Nizam said. "You need to foster a culture for this before you implement these sort of policies because unless students are receptive and voluntarily understanding it, then nothing will really change in the long run or on a larger scale."