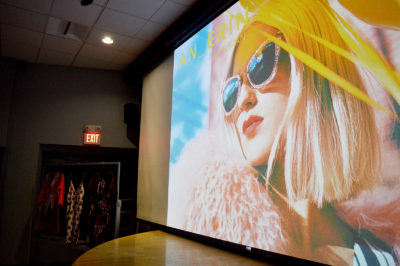 In a world that frequently forces women to compete, Boston University and the American Institute of Graphic Art are pushing for collaboration and cooperation.
Erin Robertson, winner of Season 15 of "Project Runway," addressed an audience of young female professionals at BU on Thursday. Her talk was the beginning of a new lecture series called "HERSTORY."
BU graphic design professors and members of the American Institute of Graphic Arts Boston — which bills itself as the oldest and largest professional membership organization for designers — created the new speaker series.
"HERSTORY" is part of AIGA's Women Lead Initiative, which celebrates the achievements of female designers, bringing awareness to gender-related issues in the design field and creates connections between female designers.
"What better time and place to give female designers a platform?" Kristen Coogan, a BU professor of graphic design and AIGA Boston member, said. She then added, "We're only going to succeed if we can hold each other up on our shoulders."
Robertson, who attended Massachusetts College of Art and Design, was chosen to be the pioneer for this lecture series because she has almost exclusively worked in collaborative efforts with other multimedia artists since her $100,000 win with "Project Runway."
"A lot of my inspiration comes from just being a human being," Robertson told the audience. "I'm a lot like you. I just graduated from college a year and a half ago and now I'm figuring out the next step."
She explained that she loves working with other humans to "create things that have never existed before."
"I'm very open about my emotions, so I connect with people who feel the same way and we work together," Robertson said. She explained that her friends are crucial to her process and they inspired her final collection
She told the audience how she grew up suburban Provo, Utah, where she even sewed her own prom dress instead of buying one from the same stores as everyone else.
"Everyone was the same — conservative and Mormon — and I just wasn't really into the same things," Robertson said.
She explained that got her GED before moving to Boston to chase her fashion dreams. Those ambitions were put on pause for five years as she worked as a dental assistant, but eventually she started learning about sustainability and how to work with textiles.
Then she won a $25,000 Council of Fashion Designers of America/Teen Vogue scholarship. "It's kind of like the Oscars," she said. She used the money to create her first collection.
Robertson explained that her first collection was inspired by the Trash Vortex — an area of the Pacific Ocean chock-full of plastic and trash — and used plastic to create intricate "plashion" pieces.
"Before I didn't even know that plastic came from oil … I did eye-opening projects that led to working towards sustainability," she said.
After cross-registering at Massachusetts Institute of Technology she said she learned more about using technology to create environmentally-friendly fashion pieces, and after some success, she was encouraged to try "Project Runway."
Robertson described how lonely it was to be cut off from her friends and constantly have a camera shoved in her face on the show. She was determined not to crack in front of the camera. The designer explained that her ability to create something out of nothing led her to win the show.
"I like surprises — like taking something that you see as guitar picks and meal worms and turning that into a flower," she told the audience. Her innovation set her apart from the rest of the competition, she explained.
Now she's been working to create her own business, which can be a struggle as a female designer. She noted that one of the biggest struggles is pricing yourself.
"It's difficult as a woman to be like, 'I'm worth this much money," she said. "I have to be self aware and realize that I'm a woman that's in this world full of people that are trying to bring women down."
Instead of being discouraged by the harshness of the business world on women, she's been working on collaborative projects. One of her most recent projects was a protest print created with female Boston artist Jordan Piantedosi.
When asked what advice she would have for young female designers trying to make their way up the ladder, she laughed and told the audience not to follow stereotypical paths to success.
"I would say, 'Don't do it! Find your own way!'" she said.
Ellen Cranley, a senior in COM and an attendee of the event, said she wants to go find her own path to creative success like Robertson did.
"It's cool to see someone that's doing something so different from regular design," Cranley said. "There are people that are doing things differently in other places, but they're not local. [Robertson] is someone right here in Boston that's being creative a way that's different from everyone else."