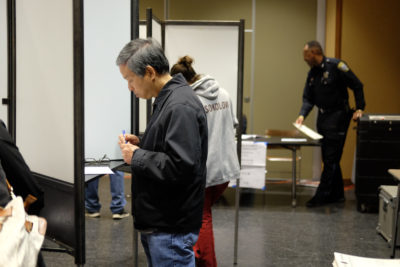 Voter turnout for municipal elections in Boston Tuesday was much lower than the last mayoral election, with roughly 28 percent of approximately 392,188 registered voters casting their votes.
In 2014, when Boston Mayor Martin Walsh ran for his first term, 41.99 percent of eligible Boston residents voted, according to the City of Boston's election office.
Richard Parr, research director at MassInc Polling Group, said prior to the election he believed the voter turnout would be low because the election is being held on an off year.
"There's no statewide races, there's no presidential races, so there's nothing else to bring people to the polls," Parr said. "It's just the mayor's race and city council races. The mayor's race has been pretty uneventful. So, it's not likely that that's going to really bring out a lot of folks."
Parr said low voter turnout is common nationally in years that don't involve a presidential vote.
"It's not just us, it's sort of a national phenomenon that presidential years get the most attention, because everyone has to focus on that," Parr said. "When you have these odd years, having municipal elections, they tend to attract much lower turnout."
Parr said while local elections often impact residents the most, they also are the elections with the lowest voter turnout.
"It's kind of a shame because municipal government, local government is what impacts people's lives most directly but the fewest number of people tend to vote for it," Parr said.
Spencer Piston, a political science professor at Boston University, wrote in an email mobilization and outreach efforts by candidates can greatly influence residents to show up to vote.
"Mobilization efforts are likely to influence the turnout rate in the Boston election," Piston wrote. "In general, one of the biggest predictors of whether someone votes is whether they were asked to do so — especially by someone or by some organization they trust."
Piston wrote those who are interested in local politics are more likely to vote, while those who are not as engaged tend not to.
"Resources also matter," Piston wrote. "Those who have a lot of political knowledge — for example, knowledge about who is running and what they stand for, or about where and how to vote — are most likely to turn out to vote in the election."
Piston wrote not all residents who can vote should vote — just those whose vote will make the city "a better place."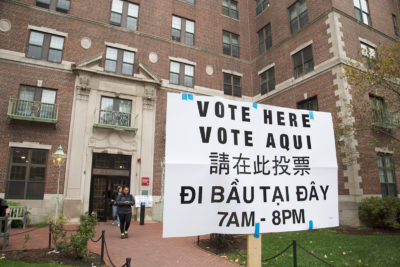 Virginia Sapiro, dean emerita of Graduate College of Arts and Sciences and a professor of political science at BU, wrote in an email many residents often overlook local elections.
"People have less information about lower-level offices and often don't understand what difference those offices make," Sapiro wrote.
Several Boston residents at various polling locations throughout the city said they went out to vote because they felt it was their duty as citizens
Virginia Haggerty, 29, of Allston, voted at the Jackson Mann School polling station in Allston and said she votes in all elections big or small because she thinks the results will affect her life.
"The presidential elections are obviously important, but all the local ones are also incredibly important," Haggerty said. "So I think it's just acknowledging that local politics is more impactful in the day to day basis of my life."
Caroline Brown, 24, of Dorchester, voted at the Codman Square Library polling station in Dorchester and said representing the population is an important job of residents.
"Even though I'm still fairly new to the city, I think it's important to represent Boston, which is supposed to be known far and wide as this political powerhouse of a city, by showing up at the polls and taking full advantage of the rights we're given to participate in the democratic process," Brown said.
Ashley Shaw, 26, of Fenway, voted at the Boston Arts Academy polling station in Fenway and said she heard voter turnout for this election would be low which is why she felt it was important to vote.
"I heard that [voter turnout] today was going to be pretty low, which is really sad because [Boston's] a really important city and a lot of people have a lot riding on this vote," Shaw said. "It's probably a reason I made sure to come out and vote too, to hopefully not be part of the low voter turnout."
Shaw said it is important to her to vote because of those who fought for equal voting rights in the past.
"Personally for me, all the people who fought for the right to vote over the years, I would feel so guilty if I didn't live up to the promise that they made available to me," Shaw said.
CORRECTION: A previous version of this article misquoted Spencer Piston. An updated version reflects this correction.