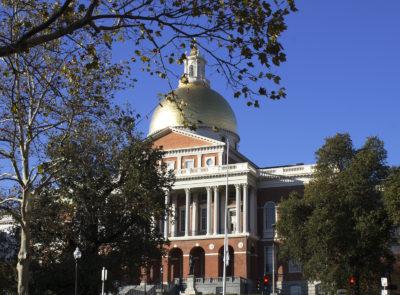 Following the Massachusetts Senate's passage of a hotly debated bill aimed at overhauling the state's criminal justice system last month, House leaders set grounds for debate with the introduction of their own version of the legislation Monday — with similar, but far more lenient measures. 
Sponsored by the House Committee on Ways and Means, the measure differs from the Senate's bill in key areas, such as electing to bypass the Senate's move to legalize consensual sex between teens close in age, and raising the age of criminal majority to 19.
The legislation put forth by the House does, however, remain prioritized on improving issues such as solitary confinement and the cash bail system, according to a legislative summary. The bill is set to be debated as early as next week.
Both the House and Senate bills would eliminate mandatory minimum sentences for nonviolent drug crimes, and include the possibility of expunging criminal records in certain cases like drug offenses.
While both measures aim for the strengthening of punishments for distributing carfentanil and fentanyl, the House version — if passed — would result in the strongest law in the country for distributing carfentanil. Individuals found guilty of trafficking any amount would face a penalty of 3.5 to 20 years in prison.
Bill Downing, member liaison of the Massachusetts Cannabis Reform Coalition, said the prohibition of cannabis has been completely ineffective and impossible to enforce from the start.
"That's what the reform does for us — starts talking about [how] people who have problems with drugs should be dealt with as though they have a health issue and not necessarily as though they have a legal issue," Downing said.
With the two pieces of legislation both maintaining a focus on reducing penalties for minor drug-related crimes, Downing said the group is hopeful law enforcement will cease their targeting of marijuana users.
"What we're hoping for is that the police will realize that their ability to randomly stop and search people with the excuse of marijuana [possession] will be reduced," Downing said. "That will [lead] to a lot less of the police using marijuana laws as a method of social control."
Criminal records resulting from these types of crimes can have a negative impact, Downing said. If an individual has convictions listed on their Criminal Offender Record Information, their job potential is limited, and they are not allowed to participate in their children's school activities.
Benjamin Forman, research director at the Massachusetts Institute for a New Commonwealth, said the bill, while not including as many sweeping reforms as the Senate's, will still result in beneficial changes for the criminal justice system once a compromise is reached.   
"In a sense [this] sends a clear message that we can and we should pay more attention to our justice system in that we can get better public safety from taking different approaches than we had in the past," Forman said. "I think there's a unified message around that."
Andrew Beckwith, president of the Massachusetts Family Institute, said the organization agrees with the House in their decision to not change the child statutory rape laws, which the Senate wants to change to allow consensual sex between minors close in age.
"What the Senate actually passed was abhorrent and we only hope it was some kind of mistake," Beckwith said. "The House wisely just refused to take up the issue at all."
Several Boston residents expressed varying opinions on the provisions introduced by the House bill.
Gail Coleman, 58, of Kenmore, said though she is in favor of the majority of the proposed reforms, she would not encourage sentence reductions of some offenses.
"Depending on the number of repeat [offenses] and whether [the offenders] are major sellers, like crack cocaine, I'm not sure that I'll be in favor of that," Coleman said.
Nelson Hyde, 61, of Back Bay, said as the father of teenagers, he is not a supporter of using marijuana, but said individuals should not be punished for doing so.
"I'm not sure that the punishments are exactly a deterrent, because if you're going to use you're going to use," Hyde said.
Jonathan Cooper Wiele, 63, of Jamaica Plain, said while he is not a marijuana use advocate, the provision calling for the expungement of criminal records for possession is logical.
"It's a relatively lighter offense," Hyde said. "It's not something that I advocate but I also consider it a pretty minor offense given the fact it's been decriminalized."