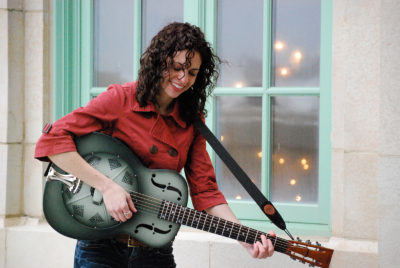 Inspiration comes in a variety of ways to artists. For Abbie Gardner, a dobro player with a voice to match, that inspiration started in childhood.        
When she was young, Gardner said she saw her father come home from his work as a music teacher and spend time with the family, eating dinner and interacting with others. But as the night progressed, her father left for the jazz club, another outlet for his love of music.
Gardner said she remembers her father on his way with a little chuckle as he walked to what she could only surmise was a truly fantastic time.
Fast forward to college, and Gardner went to Boston University for her undergraduate degree, with full knowledge she needed to investigate this happiness associated with musical talent, she said.      
"When I was at BU, I was in the Treblemakers, the a cappella group," she said. "That was really fun, and I got to do vocal arrangements for them, and even made a Jackson 5 Medley."
The diversity of music with which she was presented helped her culture a brand new style, she said.
"I was also in the gospel choir at BU," Gardner said. "The spirit of everyone there was really inspiring.
Feeding off both the influences from her father and jazz and the other styles through the BU organizations, Gardner was able to find her voice.      
"When I graduated and I started playing guitar, that's when I really started making my own music," she said.
Gardner performed with the band Red Molly, a female folk trio consisting of Gardner, Laurie MacAllister and Molly Venter, for 11 years. The group formed in 2004 but went on hiatus in 2015.
"We were touring all across the world. It was a great experience working with a team," Gardner said. "There was a focus on really getting the arrangements right and harmonies together."
With Red Molly's hiatus, Gardner changed her focus as her solo career came to fruition.
"With my solo career, I've done more local shows, especially on the East Coast," she said. "I've been focusing more on improvisation and more of my own songwriting."
Now, Gardner gets the best of both worlds. While she will continue to improve upon her solo career, Red Molly is continuing on some limited touring, allowing Gardner to invest in both at the same time, she said.
"It's really nice to have both the group experience … [and] the solo gigs where I can do whatever I want," she said.
Gardner will head to Club Passim in Cambridge Friday night, a spot that holds a special place in her heart for a variety of reasons.
"When I first started out and was first writing songs, I went to the open mic at Passim," Gardner said.
"I feel like I've grown up there because I've gone with Red Molly a bunch of times and this is my first solo show there."
Gardner said she received a grant from Club Passim's Iguana Music Fund, a program that offers grant money to artists so they can help them in terms of their career growth. For Gardner, that meant helping get her a professional version of her staple instrument.
"I was using a student model [of the dobro, a type of guitar] and I really wanted to get a hand-made professional one," she said. "So I applied and got the grant for it, and now I'll bring my new instrument back to play."
Gardner's newest album, "Wishes on a Neon Sign," will be released soon.
"It's still a band record, but it's got some intimate acoustic moments," Gardner said about the album. She later added, "It's a big step up for me in terms of songwriting, because I got to write with some really professional songwriters."