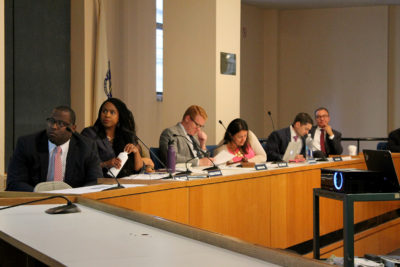 Following Boston's City Council election Tuesday, the makeup of the legislative body will now include an historical number of women and people of color when the new session convenes come January.
Out of the 13 seats on city council, six will now be filled by women of color, including newly elected Lydia Edwards of District 1 and Kim Janey of District 7, according to election results provided by the City.
The councilor-elects will be joining the ranks of the four incumbent and re-elected female councilors, according to city officials. Among them are the three nonpartisan at-large representatives Ayanna Pressley, Michelle Wu and Annissa Essaibi George, as well as Andrea Campbell of District 4.
Ryan Hand, campaign manager for Pressley, said since she became the first woman of color elected to city council, the body has been slowly shifting toward being more representative of the city's makeup.
"All the voters of Boston understand and appreciate the fact that representation matters. Boston is a majority, minority city and having people in government who more adequately represent the demographic makeup of this city is important," Hand said.
While the upcoming council is indeed historic — it is how each member will use their own unique background, perspective and expertise to benefit Boston that is most important, Janey told The Daily Free Press.  
The senior project director at Massachusetts Advocates for Children, Janey said she has dedicated a large part of her career to improving education policy for Boston's children and families. Born and raised in Roxbury, she has strong ties to the community.
"I wanted to bring that voice to the City Council … strong advocacy, so that we won't be left out," Janey said. "There's just huge disparities that need to be addressed in our communities and I'm someone, as a community organizer, [who] has been fighting for racial and economic justice my entire life and wanted to just bring that advocacy."
Janey said she understands the importance of working with communities in order to make worthwhile change.
"It's important to go right back out to the different neighborhood associations, to the different nonprofit organizations [and] community-based organizations in our neighborhoods to make sure that as we're developing our short-term and long-term goals that the voices of people who will be impacted by this problem … are being heard," Janey said.
Edwards told The Daily Free Press, like Janey, she has a lengthy history of working with the local community on public issues. In the past, she has served as a public interest attorney focusing on labor issues, the deputy director for Boston Mayor Martin Walsh's Office of Housing Stability and a statewide campaign coordinator for the Massachusetts Coalition for Domestic Workers.
Running to be a councilor was the next logical step in helping residents, Edwards said.
"There were a lot of issues and folks who had not felt really part of our community, and I wanted to help give them a voice and be able to serve them," Edwards said. "To me, it was just a continuation [of] organizing and empowering."
A main focus of her campaign was having productive conversations with citizens, and getting them involved in politics. Edwards said it was important she took the voice of the public into consideration throughout her campaign.
"There's a real sense in Boston that there's a lot of change going on and it's happening incredibly fast," Edwards said. "Our message of being together, of being a community led development … is what resonated."
Edwards expressed she has seen a tangible impact on the communities she made an effort to establish relationships with — such as being a representative figure for young girls — because of her election run.
"This little eight-year-old walks up to me and she says, 'Are you Lydia Edwards?' and I said, 'Yes, I am.' She's missing her two front teeth, she has no business knowing anything about anybody and she knew who I was," Edwards said. "My job is to get those kids the resources, get them experiences that I've never had, [and] make sure that they understand that they are also stewards of their community and their voice matters."
Several Boston residents expressed varying opinions regarding more women and people of color being represented on City Council than ever before.
Emily Goldberg, 22, of Fenway, said she is pleased with the election results and would be willing to become more politically active in the future.
"It's great to have representation for all people," Goldberg said. "And I know … that's something we struggle with in America, so that's definitely a good thing."
Gerard Mahaney, 63, of Charlestown, on the other hand, said he doesn't approve of more women being elected to the council.
"I think women should be seen and not heard," Mahoney said. "As far as City Council, I think it's a whole bunch of bullsh*t."
Christina Kyles, 26, of Dorchester, said while she wasn't too knowledgeable of the election, she expressed interest in learning about the women's community outreach.
"It depends on what kind of outreach they would do," Kyles said. "If it was something I was passionate about, I'd probably try to learn more about it and, if I have time, participate in it."