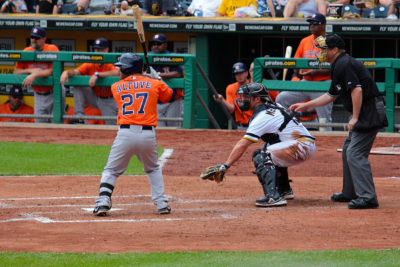 Major League Baseball has a lot of seasons. The preseason (Spring Training), regular season, postseason and offseason. This week, we have the lesser-known, but exciting, award season.
The league releases the top three finalists for each award in advance, allowing for plenty of speculation on who will win from baseball writers and fans like me.
Here are my predictions.
Rookie of the Year
American League finalists: Andrew Benintendi, Aaron Judge, Trey Mancini
Heading into 2017, Andrew Benintendi seemed like a shoe-in for Rookie of the Year. A top prospect, Benintendi is destined for stardom. Though he shined this season, he never escaped the shadow of Aaron Judge.
Judge immediately took the league by storm and was downright dominant from April through the playoffs. He finished with 52 home runs, 127 runs batted in, a 1.049 OPS, and a .284 batting average. He was an All-Star, won the Silver Slugger and was a Gold Glove finalist. Judge will win the ROY easily. Sorry, Benny.
National League finalists: Josh Bell, Cody Bellinger, Paul DeJong
When Los Angeles Dodgers veteran first baseman Adrian Gonzalez got injured early in 2017, Bellinger got his big break. He never looked back.
Bellinger slugged 39 homers and 97 RBIs along the way to his first All-Star selection. He leads all three finalists in homers, RBIs, on-base percentage, slugging percentage, OPS and runs. He was stellar all season.
Manager of the Year
American League finalists: Terry Francona, A.J. Hinch, Paul Molitor
I miss Terry Francona.
After leading his Cleveland Indians to an AL-best 102 wins, he will win his third career Manager of the Year. While Hinch and Molitor were also excellent, the Indians' 22-game winning streak puts Francona on top. Managing a team to such an unbelievable stretch is quite the feat. Francona remains the best coach in the league, and his efforts deserve recognition.
National League finalists: Bud Black, Torey Lovullo, Dave Roberts
The Red Sox should have never let Torey Lovullo leave. In his first year as skipper of the Arizona Diamondbacks, Lovullo led Arizona to a 93-win season, bringing his superb communication skills to a young team.
Cy Young Award
American League finalists: Corey Kluber, Chris Sale, Luis Severino
Chris Sale had this one in the bag. At the All-Star break, he boasted an 11-4 record, a 2.75 ERA and 178 strikeouts. It seemed like each time he pitched, he threw a gem. Unfortunately, Sale faltered down the stretch. He was mediocre in August and September, and cost himself his first career Cy Young.
As Sale choked late in 2017, Corey Kluber remained untouchable. Kluber ended 18-4 with a 2.25 ERA and 265 strikeouts. In the second half of the season, as Sale went 6-4 with a 3.12 ERA, Kluber put up otherworldly numbers: 11-1 with a 1.79 ERA. Sale's 308 strikeouts were amazing, but Kluber finished on top.
National League finalists: Clayton Kershaw, Max Scherzer, Stephen Strasburg
This may be one of the tighter races. All three pitchers had ERAs of 2.52 or lower, with more than 200 strikeouts and 15 wins.
It will likely come down to Scherzer and Kershaw. Both pitchers deserve it, but there is only one best pitcher in baseball. There is only one Clayton Kershaw.
Kershaw is phenomenal every season. In 2017, he finished with a league-leading 18 wins, a 2.31 ERA and had 202 strikeouts, while missing the entire month of August. For him to beat Scherzer in ERA and wins, while starting fewer than 30 games, is remarkable. The three-time CY Young winner should win again. Can we just enshrine him in Cooperstown, already?
Most Valuable Player
American League finalists: Jose Altuve, Aaron Judge, Jose Ramirez
Jose Altuve is the perfect example of the overvaluation of pure statistics in baseball. On paper, Judge would be the runaway winner. With his 52 homers and 114 RBIs, compared to Altuve's 24 and 81, he had the more impressive season, statistically. That being said, Altuve was the best player in the American League in 2017. Everyone knows it.
Altuve finished with a league-best .346 batting average and 204 hits, with 32 stolen bases and 39 doubles. He was stellar in the field, and is a brilliant leader. He's a complete player. He's the 2017 AL MVP. Hands down.
National League finalists: Paul Goldschmidt, Giancarlo Stanton, Joey Votto
Here too, we have a toss-up. All three were All Stars, hitting over .280 with 35+ homers and 100+ RBIs. Stanton and Goldschmidt won Silver Sluggers and Goldschmidt won a Gold Glove as well. Any of them could win.
This may be the easy answer, but I believe Giancarlo Stanton will take home the trophy. His 2017 was mind-boggling. Stanton smashed 59 homers and 132 RBIs, with a league-leading .631 slugging percentage.
He batted .281 average with a .376 OBP, and played great defense. It seemed as though every time he stepped into the batter's box, he was going to hit the ball 600 feet. He was a scary hitter in 2017. And he deserves the MVP.
So there you have it. 2017 was an exciting season in Major League Baseball, and this week, the best of the best will be rewarded with the highest honors of the sport. Are you ready for awards season?