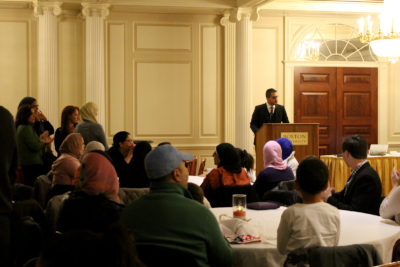 More than 200 locals and many Boston University community members packed into the Metcalf Trustee Center Saturday night for the BU Egyptian Club's first annual Egyptian Cultural Night.
Over the course of the night, attendees ate the traditional Egyptian dish of kushari, listened to professor and Egyptian Club faculty advisor Farouk El-Baz, watched a performance by a tanoura dancer and danced to Egyptian music.
The event, "El Leila El Kebira!" or "The Grand Night" in Arabic, attracted more people than the venue could hold. It drew together native Egyptians, people of Egyptian descent and non-Egyptians alike to participate in a variety of Egyptian traditions.
The idea for the event was initially conceived when the club was established in February 2016, according to Egyptian Club President Karim Ismail. However, the club was unable to gather the resources necessary to host it until recently.
Ismail, a junior in the College of Engineering, added the BU student community offers several Middle Eastern clubs, but he felt it was important to provide a separate outlet on campus for fellow Egyptian students to enjoy.
"For the Egyptians, I just want them to take away that we are also a very prominent community here," Ismail said. "We want to let them know that we are there for them, and we are here to provide them with this community that they might desire."
In a speech he delivered at the beginning of the night, Ismail said the cultural night was an opportunity for Egyptians to rise above any negativity associated with Egypt and to present a venue for inclusivity and fun.
"There used to be a time that Egypt was a place known for its enchanting artifacts and rich history, but a turn of events in the past several years turned that impression upside down," Ismail said. "We might not be in a perfect state today, but we at the Egyptian Club are not about to sit back and let that define us."
AlHassan Hashad, the treasurer of the Egyptian Club, shared a similar perspective as to why the Egyptian club was holding the event. He emphasized that Egyptian culture is more than what one might see on television.
"Unfortunately, in all of the press recently, it has all been about protests, murders, terrorism and what not," Hashad said. "Despite these incidents that happen, people still live their lives, they have fun, the world moves and Egypt is moving with it."
Hashad, a College of Arts and Sciences sophomore, said he was happy with the event's turnout, but he wished the club could have reserved a larger venue to accommodate everyone.
"I wish we did a better job with tickets and whatnot. It's always hard to say no. Again, we're limited." Hashad said. "Hopefully next year we'll be more popular, we'll get a larger room, we'll take in more people and we'll have maybe even a whole band, not just one performer."
Rana Gaber, a senior at Salem State University, said she drove 40 minutes to attend the cultural night. Raised in Cairo, Egypt, Gaber said she thinks finding other Egyptian people in the Boston area can be difficult, so her compatriots at the cultural celebration felt like family.
"We are people who like to have a lot of fun, but sometimes in public we like being so polite," Gaber said. "It feels like a family. For us, it's not easy to dance and go along with everyone. You have to feel very comfortable. It's really nice."
Amir Sedhom, 64, of Norwood, said he enjoyed the celebration but thinks the event could have been better coordinated.
"It needs more organization," Sedhom said. "It needs more communication and more planning to be more successful, but it seems like everybody is having a lot of fun. They're dancing and they're enjoying it."
Murad Al Masri, 27, of Palestine, said he decided to attend the event because he had spent seven years in Egypt for medical school.
"I'm reliving my experiences with Egypt," Al Masri said. "The culture, the people."
Al Masri said he thinks the BU Egyptian Club did a good job of presenting Egyptian culture, and that such events should occur regularly.
"It should be done annually, maybe semi-annually," he said. "It's all about building bridges, knowing new people. This is how humans are."