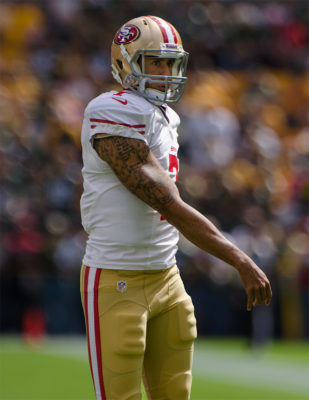 This year has brought us more scandals than we could have possibly imagined. The worlds of politics and entertainment have been existing with a perpetual darkness shrouding their recent bright spots.
Robert Mueller's Russia probe looms over Washington and Hollywood is left to deal with the fallout of Harvey Weinstein's sexual assault scandals. And whether it is in Washington or Hollywood, it seems like day after day another scandal arises. From Sen. Roy Moore to Kevin Spacey the list, unfortunately, continues to go on.  
For many people sports provide an escape from these real world problems. It is much easier to sit down and watch the game then to have a conversation about sexual assault or racial injustice or whatever the social issue may be, but for many sports fans, that is not a luxury that we can have.
I have written many times about the intersection between sports and politics, social issues and sports, and both the good and bad that sports can do for these issues we have in our society. If politics and entertainment are any indication, sports won't be too far behind in regard to scandals.
Over the last year, the NFL has dealt with protests during the national anthem, domestic violence cases (like Ezekiel Elliott) and CTE. Now the NFL has to deal with potential concussion lawsuits and even a collusion case against NFL owners by Colin Kaepernick.
This is a lot to deal with for a league that over the last few years has not been able to handle any of the scandals well. Add into it the fact that Jerry Jones has threatened to sue the league over Roger Goodell's contract extension and the league is hitting a tipping point.
Think about the recent comments from Texans owner Robert McNair. If he referred to NFL players as "inmates" imagine what is being said in the private channels of NFL owners.
As the skeletons in the closet of politicians and actors get leaked daily, the NFL could face the same type of scandals that we see elsewhere.
If Kaepernick goes through with the collusion investigation, the NFL and their owners could face the harsh reality of handing over their emails, texts and other paper trails of their communication.
This might produce more than just potential damning evidence that the league has colluded to not sign Kaepernick, who unquestionably should be in the league, but instead show us some of the private conversations of men who openly call their employees inmates.
It is hard to believe if they request access to this information that nothing would be found and some sort of scandal will come out of this. It is only a matter of time.
Sports have never been separated from politics or entertainment. Sports are inherently political. Athletes are entertainers and have the same level of influence and responsibility, if not more and from what we know so far about the league, they will do whatever they can to hide information to prevent a scandal. But we as a society need their skeletons out of the closet, so that we can only help to be better for the future for everything, including sports.