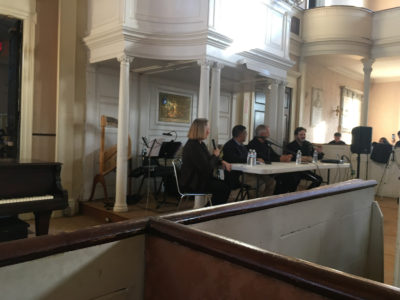 A panel Sunday afternoon at the First Church in Roxbury focused on discussing some of the current myths and stereotypes surrounding Islam in the United States — especially because these stereotypes are adversely affecting society today.
Moderated by WBUR's Louise Kennedy, the panel, called "Demystifying Islam," focused on the richness of Islamic culture and misconceptions about the average Muslim evident in society today.
Grammy nominated composer, New England Conservatory Music History and Musicology department faculty member and co-director of NEC's Intercultural Institute Mehmet Ali Sanlikol, one of the panelists, said before the forum it was planned around addressing the issue of societal stereotypes of Islam. 
Through his concert series "DEVRAN," which he performed after the panel, Ali Sanlikol said he hopes to bridge the divide between those who alienate the culture of Islam and those that participate.
"The activism that put me on this mission is the stereotyping of Muslims," Ali Sanlikol said. "There are many variations in the geography of Islam. The culture of Islam is cosmopolitan and really diverse and … I was seeing a particular stereotype that was emerging even in the liberal media."
Ali Sanlikol said those who attend should be able to understand a spectrum exists in Islam as it does in other religions — from non-practicing Muslims to those that are devout.
"If they understand that all of this variation exists in the world of Islam as well, then of course it will be easier to relate to this culture," Ali Sanlikol said. "Otherwise, the stereotype is all they can relate to which they are going to alienate."
Ali Asani, a professor of Indo-Muslim and Islamic Religion and Cultures at Harvard University, said during the panel there is a problem in the lack of religious literacy.
"Our educational systems have failed to provide us the framework and tools to engage across these different religions," Asani said.
It is important to understand religion is embedded in culture, and that it is not a set of ideas independent from societal contexts, he said.
"Different contexts shape how people interpret religion," Asani said. "Understandings of religion are embedded in context."
Robert Labaree, a faculty member with a specialization in the performance of Turkish music at NEC, shared this sentiment and said he has had experiences in the classroom which shed light on the way stereotypes can get in the way of learning.
The lack of knowledge around the subject he teaches alienates his students even further because it forces him to teach it in a way that may be oversimplified, he said, though he tries to avoid this.
"You need to know about music and you need to know about its history without being reduced to a stereotype," Labaree said.
Several attendees said stereotyping is a major issue in the country today.
Beyza Burcak, 30, of Somerville, said stereotyping is especially evident when there are shootings in the country.
"With the current political climate, for example, after the New York attack we talk about how the person was Muslim but like one week after there was another event in Texas but we don't even talk about religion or anything, so I think it's important to discuss this because stereotypes are things we socially form," Burcak said.
Jonathan Simcosky, 33, of Salem, said there is a lack of religious literacy in the country.  
"The idea of religious literacy is something that we should all be talking a lot more about and so it was a good conversation in that regard," Simcosky said. "It seems that most of our exposure to Islamic tradition is through news, most often tragic news and an opportunity to see Islamic culture expressed like this in a diverse way is helpful."
John Pynchon, 66, of Jamaica Plain, said he is fearful in regards to the knowledgeability of religion in the country today.
"How uneducated Americans are about religion is really horrific and that should be something that young people should learn so that they aren't afraid of other religions," Pynchon said.