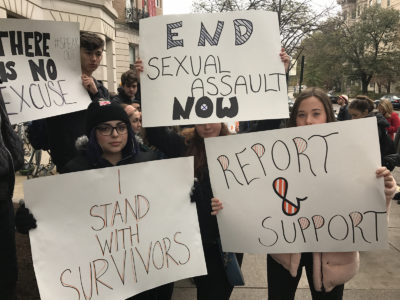 Over 1,200 Berklee College of Music students and community members participated in a walk-out and sit-in Monday in response to multiple sexual assault allegations against several professors and students at the university.
Students walked from 1140 Boylston St. to the Berklee Performance Center for Berklee president Roger Brown's "State of the College" address, where a panel was held to discuss the sexual assault allegations.
Students marching remained silent as they walked to the panel venue, many holding signs reading messages such as "End sexual assault now," "I stand with survivors" and "Report and support."
The protest was organized by Michela McDonagh, a junior studying professional music at Berklee, in reaction to a recent Boston Globe article which revealed acts of sexual harassment by multiple professors toward students at Berklee College.
"The main goal is to get sexual predators off campus," McDonagh said at a planning meeting Sunday night. "That's the number one thing. Just get them out. If you get them out, then we don't have these problems."
McDonagh said she felt the protest would have more of an impact if those participating remained silent, as it is illustrative of how victims of sexual assault are often silenced.
"I've been to many protests where I've walked around screaming and it's great," McDonagh said. "I love that, don't get me wrong, it's totally great. But I also think silence makes more of a statement. It's representative to the way that we've been treated and the way that victims have been treated on campus."
At the panel following the march, McDonagh, along with fellow Berklee students Sky Stahlmann and Patrick Gdovic, presented an address aimed at the university expressing their feelings regarding the sexual harassment on campus.
"Recent events have revealed that Berklee has jeopardized the safety and well-being of its students and continues to do so, despite the policies and promises of the administration," Stahlmann said. "Our safety is a fundamental right that can only be assured by strict, explicit policy by a transparent administration."
The students listed their demands, which included the university uphold their zero-tolerance policy on sexual assault, require that students to never be placed in a class with a faculty member previously accused of sexual assault or harassment and replace Berklee's original statement in response to the Globe article which denied the claims.  
The students finished by referring to Berklee's official motto, "Esse quam videri," a Latin phrase which means "to be, rather than to seem."
"We are here to create future safety not only at Berklee but at institutions all over the country," Stahlmann said. "Let Berklee be the leader in this change. Following Berklee tradition, we demand our safety to be, rather than to seem to be."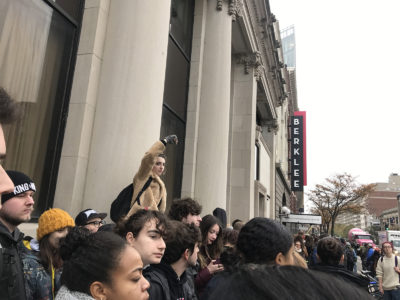 After the address, Brown made remarks addressing the issues of sexual assault on campus. Brown said he apologizes to any students who have been sexually assaulted at Berklee and that he is committed to working to improve the situation.
"To everyone who has been harassed or abused at Berklee, I am so sorry," Brown said. "I apologize for this institution. It is unacceptable, it breaks my heart, it goes against everything that makes me want to be here in the first place."
Brown said there have been 11 faculty members at Berklee removed from their positions since he began serving as president, according to the Globe article.
"It is not an insignificant number and behind every one of those issues is at least one, and in some cases multiple students, whose dreams have shattered, whose expectations of us were destroyed and who lost trust in us and many in themselves," Brown said.
Several Berklee students who attended the protest said they wanted to see the administration make changes regarding sexual assault on campus.
Jessica Gross, a junior studying songwriting and music business at Berklee, said she thinks the rally will show the administration that change must occur on this issue.
"I just think it's really important that we as students show the faculty and the administration that we are dissatisfied with what they've done so far and that we are really adamant that we want actions and not just words," Gross said.
Makele Clemmons, a sophomore at Berklee studying songwriting, said the administration wants to keep the issue out of the news, which makes students feel unsafe.
"They want to make sure we're not talking to people and making sure this stays out of the press and it's not doing that as you can see," Clemmons said. "They're trying to sweep everything under the carpet and make sure it's not heard or talked about and that's really problematic because people are literally afraid to attend this school."
Nat Michelle, a Berklee junior studying performance, said she attended the protest because of her experience as a victim of sexual assault and she has testified in the past in cases at Berklee regarding sexual assault.
"I'm here specifically because of the fact that I am a victim of sexual assault," Michelle said. "I also have friends at Berklee who are victims of assault on campus and I had to testify as a witness to the events that happened with some of the Berklee administration."
Michelle said students should not have to be afraid at Berklee.
"Our students are paying too much, are working too hard, are too talented and too good of people to be living their lives in fear," Michelle said.