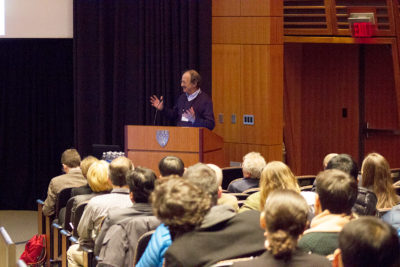 Tumor suppressors are found in everyone. Their job is to protect and monitor cellular growth and function. When tumor suppressors fail, cellular mutation may occur, leading to cancer. In Boston, the William Kaelin Laboratory at Harvard Medical School is focusing on tumor suppressors and their relevance with cancer.
In honor of William Kaelin, Jr., Harvard Medical School held an all-day event last Friday about tumor suppressor research. Kaelin's past and present research fellows from all around the world came together to present their current research.
Elizaveta Benevolenskaya, a professor and principal investigator at the University of Illinois at Chicago, spoke about her research on the pRB-induced differentiation, a process that causes cells to stop dividing and attribute a certain cell fate.
"The goal is to find cellular proteins that can interact specifically with the binding region [of the pRB tumor suppressor gene] and mediate its ability to induce differentiation," Benevolenskaya said.
Researchers at the conference sought to discover more about how pRB works and what proteins it works with. Mapping out how pRB works with other proteins in the human body will help to better understand and prevent it from becoming dysfunctional in healthy human beings, which spurred researchers to find a solution.
Benevolenskaya sought to find specific proteins that interacted with pRB to induce differentiation and went on to describe her research with the cellular regulator, KDM5A protein.
"We isolated the protein KDM5A among several pRB-interacting proteins … and found that it [affected] the ability of pRB to induce cellular differentiation," she said. "It was discovered that differentiation only works if pRB binds to and inhibits KDM5A."
Benevolenskaya discovered that KDM5A is important factor from the switch from cancerous cellular growth to death.
Haifeng Yang, a cancer researcher and professor at Thomas Jefferson University, also spoke about his research on the PBRM1 tumor suppressor. PBRM1 is part of a group of proteins that remodels the structure of the human chromosome.
"We had found that 40 percent of [kidney cancer] tumors have … mutations in PBRM1," Yang said. "One of the key questions for my research was, 'How do tumor-derived mutations disrupt the functions of tumor suppressor genes?"
His goal was to help determine the underlying biological mechanisms of PBRM1. It has been found to act as a tumor suppressor in that it regulates the first step of protein synthesis, similar to the function of pRB. If PBAF is mutated and stops working correctly, it could lead to cancerous tumor growths as well, he said.
"We found that PBRM1 may potentially bind to the rest of the PBAF complex … at specific binding sites of its DNA [sequence]," Yang said.
He also looked at PBRM1 and acetylation, which is a chemical process that is required for another tumor suppressor gene to function, the p53. The p53 tumor suppressor is essentially responsible for the conservation of a healthy human genome and preventing genomic mutations.
"We got an antibody and wanted to check whether this antibody could detect [PBRM1] signal in human tissue," he said. "We did find … that this antibody showed … signals in regular, healthy human tissue."
In other words, Yang found that acetylation may directly be involved with the PBRM1 tumor suppressor, but perhaps not in the same manner as with the p53 tumor suppressor.
Naomi Li, a recently graduated doctoral student from McGill University, attended and spoke about the event.
"It's exciting to be at conference with a smaller, more concentrated group of people interested in the same thing," she said. "I enjoyed learning about research going on all around the world."