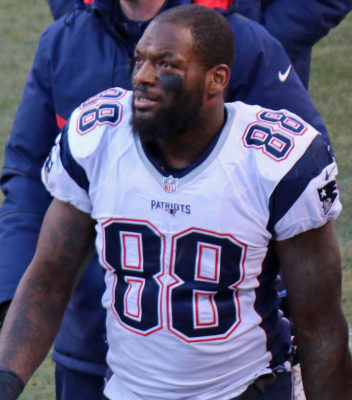 If loyalty is what you're looking for, don't go knocking on 30-year-old tight end Martellus Bennett's door.
Unless, of course, you're Bill Belichick, apparently. If you are, then Marty will happily align himself to you — or to your five Super Bowl rings, one of which Bennett was lucky to snag up last year during his brief run with New England.
When anything happens with the Patriots, it is considered breaking news in the NFL. Whether it's because hating the Patriots is just trendy right now or because viewers need something to talk about while they're not watching Week 11 (ratings are low — and I mean low) is unsure. But what is sure is this: Something sketchy happened in Green Bay between Bennett and the rest of the team, and it doesn't look too good for him right now.
In chronological order, here are the confirmed events that took place:
The Patriots obtained Bennett from the Bears in the 2016 offseason. All along, however, he was set to become a free agent by the end of the season.

Bennett proves himself for the Patriots, connecting seamlessly with quarterback Tom Brady after a four-game suspension, courtesy of Deflategate. The duo gets three touchdowns in Brady's first game back.

The Patriots win the Super Bowl, unsurprisingly. Bennett gets a ring. He is clearly very happy (see:

video of Martellus Bennett dancing with the Patriots cheerleaders after their AFC win last year,

despite the professionalism the Patriots and Belichick practice to maintain their mysterious appeal).

Now a winner and much, much more marketable, Bennett decides to sign a $21 million deal, three-year with the Green Bay Packers. New England is sad to see him go, but no one is surprised: Bennett wanted to get a ring, and New England wanted to take monetary advantage of a great player who'd do anything for the glory. Both sides fulfilled their business contract with no hiccups and part ways amicably.

Bennett plays for Green Bay. Superstar quarterback Aaron Rodgers and Bennett fail to have the same connection as the tight-end and Tom Brady.

Aaron Rodgers get injured. Fans kiss the Packers 2017 season goodbye. Bennett has a boo-boo on his shoulder, and not too long later, announces his probable retirement on social media. Rumors circulate surrounding potential surgeries for the tight-end.

Meanwhile in the East, the Patriots have a receiver crises, losing Julian Edelman, Chris Hogan, and a little bit of Danny Amendola. Everyone is shaking their heads frustratingly at Dwayne Allen who has done about as much as Edelman in this season (Edelman was injured in the pre-season).

The Packers release Bennett, and drama ensues. The event quickly turns into a he-said-she-said situation, with Bennett claiming that the team doctor pressured him to not disclose his shoulder injury. The Packers claim that Bennett is, well, full of it.

Belichick smells an opportunity, and he and Tom Brady pounce right away by aggressively phoning Bennett (ever heard of playing hard to get, guys? I mean, come on).

Finally, in typical, Patriots-flare, the team claims Bennett and puts him back onto their roster with no-monetary guarantees. Bennett suddenly forgets what the words "retirement" and "shoulder injury" mean.

Week 10 against the Broncos circles around, and three passes and 38 yards later, Bennett is back, injury-free and hot on the gridiron.
I won't lie, this isn't a good luck for anyone (except the Patriots because, really, how can one coaching staff/management always come out on top?). It appears that Bennett is not only the opposite of a team player, but that he's willing to cost franchises money and breach contracts if there's no Charlie Sheen-esque "WINNING!" sign in his foreseeable future.
Given these past few weeks, there's no way to tell exactly what Marty's role will be for the Patriots the rest of this season, or where he'll be after that. No one wants a player that's hard to work with, especially no funny business, "Do your job" Bill Belichick. Don't forget about the shocking Jamie Collins' trade he spearheaded last year.
This coach is not afraid to cut off ties with athletes that don't play by the rules. Marty's behavior in Green Bay may have worked out for the Patriots, but if he pulled that stunt in New England, he'd have a whole lot of hell to pay from the organization, more than what he's currently getting from the Packers.
But if there's one thing we can hand over to Marty, it's this: He just made the rest of this NFL season a hell of a lot more interesting.