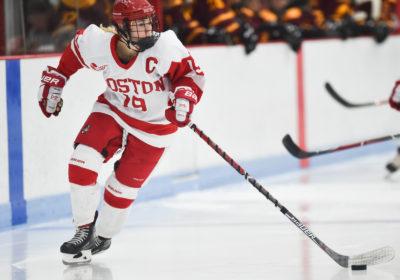 The Boston University women's hockey team will travel to Burlington, Vermont, this weekend in order to collect valuable conference points in an away series against the University of Vermont.
This will be the Terriers' (2-6-2, 1-5-2 Hockey East) first matchup against the Catamounts (5-7-1, 3-4-1 Hockey East) of the season and their first time back at Gutterson Field House since last season's 2-3 loss on Oct. 9.
Vermont held BU without a win as well with two draws during a January series at the Walter Brown Arena last season.
Despite a slow start, BU has steadily been building momentum and picking up conference points in recent games, including one point from conference rival the University of New Hampshire during its last away game on Oct. 29.
"Our biggest task to remain structurally sound, which means doing a good job in the neutral zone and then turning them into offensive chances," BU head coach Brian Durocher said. "I told [the team] today, if we keep competing and putting up 35, 40, 50 shots, we're going to get those high scoring games we want."
The Terriers' most recent conference matchup occurred last weekend against the University of Connecticut. Despite injuries only allowing for three offensive lines, the team was able to earn a point in a 2-2 draw.
This weekend, the Terriers look forward to regaining freshman forward Nara Elia, who was out against UConn (4-4-3, 0-3-2 Hockey East). Durocher also said sophomore forward Deziray De Sousa, who did not play last weekend, will likely be a gametime decision.
Elia makes up part of a strong incoming class, who, along with fellow freshmen forwards Kristina Schuler and Jesse Compher, is currently tied for fifth in points among the team with five apiece.
Durocher also pointed out the benefit of sophomore defenseman Breanna Scarpaci, who started with a season that was predicted to keep her out of play until December, rejoining the lineup for the recent UConn matchup.
Victoria Bach, senior forward and assistant captain, is the only active player for BU to have scored against the Catamounts last season.
Fellow senior forward and captain Rebecca Leslie has had luck in years past against Vermont, and has earned a point in five of BU's last six games.
Of course, the Terriers aren't the only ones with something to prove.
"Vermont is a real veteran team right now, a lot of their leaders have been around for a few years," Durocher said. "They've had success in the last three out of four years, they have plenty of good players and they play well in their building."
The Catamounts are coming into the series having split their last home-and-home series against defending national champion Clarkson University.
During the first game, Vermont picked up a 3-2 win capped by two unanswered goals in the second and third period.
Catamount junior forward Alyssa Gorecki lit the lamp twice, adding to a tally that has her leading the Vermont in points.
Gorecki's recent play also earned her the honor of being the Hockey East Player of the Week for the third time in her collegiate career.
Assisting on the first of Gorecki's goals Friday afternoon was sophomore forward Ali O'Leary, who has become a steady offensive presence on the team.
Notching the third and final of the Catamounts' goals against Clarkson(11-2-1) was senior defenseman Taylor Willard, the team's captain and a player Durocher noted as someone to keep an eye on.
The next day, Clarkson shutout Vermont in its own barn, leaving them with a 4-0 loss.
This season, ranking within Hockey East is a close race with a three way tie between the Catamounts, the University of Maine and Providence College who currently hold the fourth place slot with seven points each.
The Terriers, along with Merrimack College, hold seventh place with four points.
Both BU and Vermont are looking for a win, and with four points up for grabs, this series has the potential to make a significant impact on the standings.
Still, Durocher emphasized the importance of the BU team staying even keeled.
"They can't be where when they get an opportunity, they're not 'gripping the stick too tight,' trying so hard they start misfiring," Durocher said. "We have to stay relaxed, keep generating opportunities, and pucks will go in."