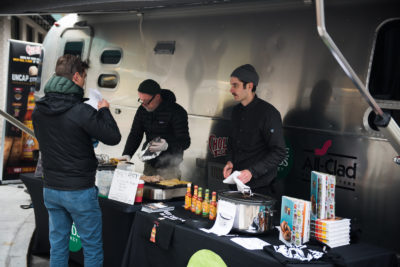 Outside of Whole Foods on Washington Street in Brighton on Monday, Hugh Acheson stood under the tin roof of an Airstream travel trailer. Salty steam rose off of a small flat top grill, while one gloved hand flipped flour tortillas into the grease with a mound of sizzling Cholula glazed pork sitting on the side.
To his right, a team member plopped pork into the hot tortillas, sprinkling cilantro and queso fresco on top, finishing it off with a generous drizzle of green tomatillo salsa. One by one, hungry shoppers grabbed the foil wrapped tacos, dropping change in a bucket labeled "Seed Life Skills."
"It's for charity," Acheson said. "If you want to give money, that's great — if you don't, that's fine too!"
On Nov. 10, Acheson and his team packed up their Airstream Silver Bullet with freshly printed cookbooks and a trusty slow-cooker. It was the start of a month-long book tour across the continental United States.
In a 25-city tour stretching across the nation, Acheson and his team partnered with Airstream, Cholula Hot Sauce and All-Clad Metalcrafters to bring a slow-cooked taco demonstration to local Whole Foods stores.
Acheson approached Airstream's Endless Caravan team over the summer for a collaboration with his book tour. According to a statement from Airstream's public relations department, the "experiential" campaign was created to "discover new places and meet new people."  
Now, Acheson's taking on the full-time experience of life on the road for the #EndlessCaravan project and his book tour, both rooted in values of community and cuisine.
Acheson, a Food Network judge, renowned chef, restaurant-owner and cookbook author, began his culinary career at just 15 years old.
"He's a total peach," Martyna Bloom, a marketing field associate for Whole Foods, said. "I love that he's doing this for charity."
Proceeds from the taco demonstrations benefit Acheson's charity, Seed Life Skills. The educational program works in collaboration with schools to reinvent the home economics curriculum and provide the materials necessary to teach it.
"It's all about this: What are the skills that a kid who went through middle school will retain and use when they're 18, 19 and 20?" Acheson said.  
Acheson's fourth book, "The Chef and the Slow Cooker," has the same inventive approach to cooking as Seed Life Skills does to home economics, he said. Readers learn how to use their timeless crock pot, outside of just serving up Grandma's old-fashioned pot roast.
"How do you get Americans to cook from scratch again? With something they have already that's at their disposal," Acheson said. "It's easing people into the idea of good cooking, in a way that they're not going to lose time in their life."
"The Chef and the Slow Cooker" is overflowing with bright colors and quirky photos of Acheson staged with whimsical props.
As he cracked open his copy of the book, freshly inked with Acheson's jagged signature, longtime Acheson fan Marty McCabe, 41, of Cambridge, said that each section of the book contains "really funny little random pictures."
"Everybody thinks of slow cooking as just submerging [food] in liquid and boiling the crap out of it," McCabe said. "His stuff is not like that, it's fun stuff."
In the cookbook, readers will find recipes for everything from ramen to chickpea salad, from pork shoulder to catfish. The recipe Acheson served at his taco demonstration is just one of his many slow cooker confections.
"A few [Whole Foods] team members are obsessed," Bloom said.
And not just with his scrumptious tacos. Acheson is a fan-favorite judge on Food Network's cutthroat cooking competition, "Top Chef."
"He's epically dry," McCabe said of the chef's personality on the show.
According to Acheson, working on Top Chef is easier than it looks.
"Judging is just eating," he said. "It ain't that hard."