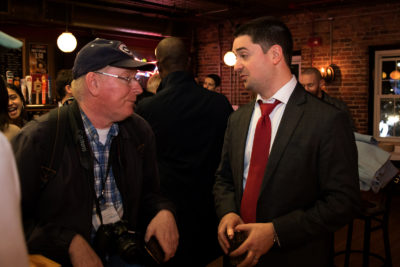 Boston City Councilor Josh Zakim filed an ordinance Wednesday that aims to increase voter access in the city by further reducing barriers to polling stations.
The legislation mandates for select departments — Boston Public Schools, the Boston Public Library and the Boston Transportation Department — to implement several key changes, such as the BPL providing registration information when patrons file for a library card, as a means of easing the ability for people to vote, according to a press release from the councilor's office.
The majority of the proposed changes are founded on testimony compiled from residents and City officials at a Committee on Civil Rights hearing convened by Zakim in September, according to the release. Zakim sponsored the meeting to address restrictive voter registration laws in the Commonwealth, The Daily Free Press reported.
Other amendments put forth by Zakim include the BTD using the resident parking permit application system, thus registering applications to vote automatically, providing them with the option to "opt-out" rather than "opt-in," according to the release. Boston Public High Schools must also provide voting information to students, as well as a sufficient amount of time off for those eligible to vote to cast their ballot.
Audrey Coulter, the associate press secretary for Boston Mayor Martin Walsh, wrote in an email the administration looks forward to reviewing the proposal as it aligns with the city's current goal to increase voter access.
"Boston consistently works to ensure voter access, and looks forward to continuing its work," Coulter wrote. 
Adam Silver, an assistant professor of political science at Emmanuel College, said while the legislation may ensure easier voting access for residents, other factors contributing to low voter turnout are also at hand and are less likely to improve regardless of whether or not the legislation passes.
"What we saw in the mayor's race, there was extremely low turnout because … [of] the idea that people are just really busy and they felt that the mayor was going to win rather easily as the polling indicated," Silver said.
Enabling same-day registration and early voting may also be beneficial in increasing voter turnout, Silver said.
"Studies actually say that same-day registration is … the best way to increase turnout," Silver said. "Early voting is important to allow people who are busy to plan ahead — you can figure it out and get to the polls. Also, the lines might be shorter that way because they're open a lot longer."
Aaron Weinstein, the dean of the School of Arts and Sciences at Tufts University, wrote in an email Zakim's legislation would serve to aid the democratic process as a whole.
"The United States prides itself on being a democracy with open elections," Weinstein wrote. "As the councilman says, we should be making it easier to vote, not harder."
Increasing voter access has proven to be successful in the past, Weinstein wrote.
"There is evidence that lowering barriers to voting increases turnout," Weinstein wrote. "We see this with Motor Voter laws, as well as Election Day Registration … laws that do away with closing dates for voter registration."
Several Boston residents said they were in favor of Zakim's legislation as it will allow for more residents to have the opportunity to vote.
Steven Li, 20, of Allston, said the proposed changes will help to increase voter turnout as residents will have a deeper understanding of the registration process and easier access to polling stations.
"It's a good idea because that will increase the number of people who will vote," Li said. "I didn't vote this year because I did not have time. Perhaps this new legislation will make it easier — more access to information … a better understanding of politics and what I'm voting for, who I'm voting for."
Siobhan O'Connor, 55, of Kenmore, said she voted in the past election because it is her civic duty, and expressed support for the measure.
"I try [to vote] as much as I can," O'Connor said. "It's a lack of issues and stuff [leading to low voter turnout] because between years, less people voted now than they did last year."
Darlene Charles, 27, of Dorchester, said individuals often don't vote because polls are opened at inconvenient times, and that the legislation will work to eliminate potential barriers.
"It's probably timing because people work early," Charles said. "Even though they keep the polls open early, sometimes it's an inconvenience. I did not vote this year because of my work schedule."