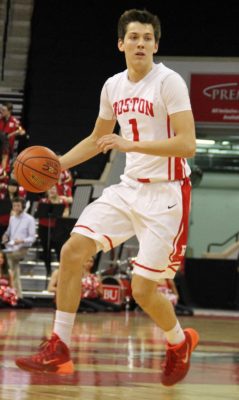 After an 85-66 loss to the University of Connecticut on Sunday evening, the Boston University men's basketball team will stay on the road as they attempt to garner their first win of the 2017-18 campaign against the University of Maine on Wednesday in Bangor, Maine.
The Terriers (0-3) found the going tough against the Huskies (3-0) at the XL Center in Hartford, coughing up an early seven-point lead while being dominated on the glass to the tune of a 52-32 margin for the game. BU struggled from the free throw line, making just 10 of their 21 attempts.
"At some point we have to be able to make free throws," BU head coach Joe Jones said. "That really hurt us. Once we went to the free throw line and didn't make free throws, it mixed up our press. If we could have made our free throws, at least it's a 10-point game and not a 20-point game."
The Black Bears (0-4) also played in Connecticut on Sunday and suffered the same result, only in more heartbreaking fashion. Maine pushed Sacred Heart University to overtime before falling, 69-68, in a back-and-forth affair in which 26 lead changes and 10 ties occurred.
The Black Bears were unable to rise to the top in the end as a three-pointer by junior guard Trae Bryant with one second left was off line.
Maine did receive some positive takeaways from the loss, however. Senior guard Ilker Er starred with a game-high 20 points and 10 rebounds while junior guard Aaron Calixte broke out for 18 points. The team also witnessed the emergence of junior forward Ilija Stojiljkovic, who posted his first career double-double with 10 points and 11 rebounds.
The man most likely in charge of restricting Stojiljkovic from retrieving another double-double on Wednesday will be senior forward Nick Havener, who has been impressive in the Terriers' first three games.
After averaging 5.3 points per game a season ago, Havener has taken a major step forward in the scoring column in the 2017-18 campaign. Following a 16-point outing on 7-of-11 shooting in just 25 minutes Sunday, Havener is now averaging 14.3 points per game for the season. He also impressed on the glass against the Huskies, grabbing a team-best 10 rebounds.
"He's showing progress and he's playing well on the offensive end," Jones said.
What hurt the Terriers was that nobody else was of assistance on the boards. Senior guard Cedric Hankerson was the only other BU player to record at least five rebounds while the big man combination of sophomore forward Max Mahoney and freshman center Sukhmail Mathon came down with just five rebounds in 27 combined minutes.
Luckily for the Terriers, Maine has not been stout on the boards, either. The Black Bears were outrebounded, 47-38, on Sunday and their tallest player is 6 foot 8 inches.
BU last took on Maine in November 2016, and although they did not win the ever-important rebounding battle, the Terriers experienced an offense explosion. Reaching 100 points for the first time in 22 seasons, BU routed the Black Bears, 102-78, while having five players reach double figures.
This contest marked the first time in which Terriers fans were treated to the potential of current sophomore Tyler Scanlon and Destin Barnes. Scanlon made a trio of three-pointers en route to a 15-point performance while Barnes hit two from deep while posting 10 points. BU also received a standout showing from senior guard Cheddi Mosely, who knocked down three treys for 15 points of his own.
With the win at Case Gym, BU improved their dominance over Maine as they lead the all-time series, 60-41.
According to Jones, the Terriers need to play like a veteran team if they wish to obtain their 61st win over the Black Bears.
"We look like a young team," Jones said. "That's what we look like. We should be playing a little more like a veteran team because we have some older guys out there. I'm upset by the lack of leadership. We are going to have to find a way to compete a lot harder."