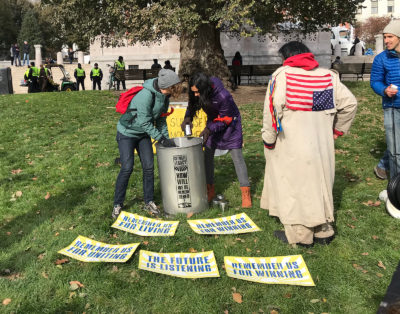 Following the United Nations' first climate change conference since the United States announced its slow withdrawal from the Paris climate agreement, Bay Staters gathered before the State House Saturday morning to contribute their part to a time capsule dedicated to raising awareness for climate action.
Speakers addressed the past, present and future of climate change while more than 60 people carried signs such as, "The future is listening," and chanting, "It's time, for Mass, to drop that oil, coal and gas!"
Part of a national effort coordinated by Sunrise Movement, Saturday marked the "Day of Dedication," at which point similar time capsules across the country were sealed and buried, set to be opened in November of 2067, 50 years into the future, according to the group's official web site.
Residents of the Commonwealth were instructed by Sunrise Movement Boston, the group's local chapter, to bring two things with them to be sealed within the time capsule: a small-sized object that represents "what you love and want to protect in the face of climate change," as well as a letter to the future, according to the group's Facebook event page.
Sunrise Movement Boston also criticized local leadership by including a record of Gov. Charlie Baker's inaction on the issue of climate change in the time capsule. This was done after Baker fell short of an open challenge posted on the group's Facebook page urging him to sign an executive order rejecting new fossil fuel projects within the Commonwealth by the day the capsule was buried.
Rachel Eckles, press director for Sunrise Movement Boston, said prior to the rally the time capsule was designed to remember those who helped contribute to a better climate, as well as highlight those that did not.
"Our desire is for this time capsule to not only write down Governor [Charlie] Baker's inaction in history but also to symbolize the real and passionate young people who have been fighting for the things we care about," Eckles said.
Brian Stilwell, manager of Sunrise Movement Boston, said during the rally Baker had the chance to make a difference but has chosen not to.
"He had the opportunity to lead but didn't and is leaving a legacy that jeopardizes the lives of thousands of people here in Massachusetts and across the world," Stilwell said. "As of now his climate legacy is, unfortunately, one we're not proud of."
Stilwell said he wanted to focus on the importance of leaving a legacy of being environmentally conscious for future generations.
"We are going to show people 50 years from now here in Massachusetts that we are on the right side of history, that we will take action for a just, fair, renewable energy future that is free of fossil fuels," Stilwell said.
Stilwell said by putting together the time capsule, residents have committed to help improve the environment and fight to stop climate change.
"In dedicating this time capsule, we affirm there will be a future," Stilwell said. "It will be a beautiful future because we are all dedicating ourselves to making it real."
Alyssa Lee, an organizer with Sunrise Movement Boston, reminded the crowd of the national involvement surrounding the Climate Legacy Time Capsule Project.
"Today will be about envisioning a vibrant future for our grandchildren's children," Lee said. "Right now, folks are gathering in cities all across the United States weaving a web of dedication all across the country."
After listening to the speakers, people lined up with the objects and letters they brought to bury with the time capsule.
Several Boston residents shared the items they had brought with them and the personal meaning they held, as well as their hopes for the future state of the environment.
Emily Hart, 29, of Somerville, contributed a picture of her favorite beach from her home state of Hawaii to place in the time capsule. The picture symbolizes her care for ocean ecosystems and coral reefs, she said.
Hart said she hopes to see the time capsule opened and to know there's been success since its creation.
"In 2067, I'll be 80 and I really hope that I'll get to open up the time capsule and really look back on everything that we've done and how much change we've made and that's really exciting," Hart said.
Alison Takemura, 31, of Cambridge, said she brought with her a jar filled with pine needles because it's scent reminds her of the peace she experiences from walking through the forest in the winter.
Takemura said the creation of this time capsule was unique from any rally she had attended before on climate action.
"The process of bringing an object that the future will get to see is moving in a way that I haven't experienced with other climate actions," Takemura said. "It's very reflective and introspective and it ultimately reminds us of what we're fighting for."