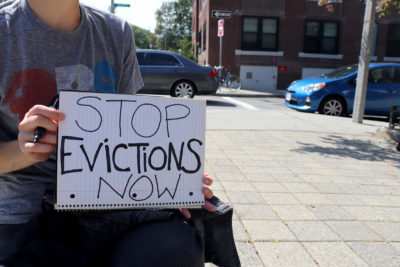 Rising rents and the trend of gentrification in Boston have remained steadfast, with the city ranking as the fifth most expensive place to rent in the nation, according to apartment rental platform Zumper's 2017 national rent report.
The neighborhoods of Mattapan and West Roxbury saw the fastest growing cost of rent in the last quarter, marking a 12 percent and eight percent increase, respectively, according to a Nov. 20 article published by Zumper, which specializes in apartment listings and rent rankings.
The issue of affordable housing was a hot topic in this year's Boston mayoral elections, where candidate Tito Jackson expressed the City was not focusing on the issue enough, and incumbent Boston Mayor Martin Walsh responded with the current initiatives in place to tackle the problem during the final debate, The Daily Free Press reported on Oct. 25.
Priscilla Flint-Banks, co-founder and program coordinator at the Black Economic Justice Institute (BEJI), said the City of Boston is not doing enough to halt the effects of gentrification.
Landlords are seizing the opportunity and raising rent which makes gentrification visible and active, especially in Roxbury, Dorchester and Mattapan, Flint-Banks said.
"That's where gentrification [and] displacement is coming from," Flint-Banks said. "Especially in Roxbury [where] people of color and low-income people cannot afford to pay these high rents."
The organization has several efforts underway to address the issue, Flint-Banks said. BEJI has been working on a project called the Blue Hill Corridor Planning Commission, which is looking into getting a land trust and working with businesses to decide what they need and what are they looking for, Flint-Banks said.
"[We're] also trying to educate our community around the fact they should be looking to purchase if they can," Flint-Banks said. "We've partnered with [the] Massachusetts Affordable Housing Alliance and we do first-time home buying classes."
Felix Zemel, Boston University Metropolitan College professor of city planning and urban affairs, said gentrification is difficult to quantify, though it is evident in the city.
"The City has been very active trying to reduce the impact of those changes that have been occurring over the last many years," Zemel said. "Mainly through programs like the Inclusionary [Development Policy] and the Linkages program, [in addition to] the City's big master plan [on] affordable housing benchmarks."
Zemel said the City is also attempting to address the affordability issue through its programs focusing on commercial construction. A considerable amount of the new construction that is occurring is targeting businesses and young professionals, Zemel said.
"They're building studios and one-bedroom apartments," Zemel said. "But from my own experience, I'm seeing that the need is actually more in the arena of family housing."
Several Boston residents said rising housing rents is a problem in the city, and suggested potential solutions to address the matter.
Elena Arroyo, 23, of South End, said the phenomenon of gentrification contributes to the availability of affordable housing, and expressed officials should do more to combat the issue.
"With bigger companies moving into the city, it has the potential to raise rent," Arroyo said. "It's just pushing people into certain areas of Boston where housing is more affordable, but it doesn't necessarily mean that it's the best location."
Millie Deolio, 50, of Jamaica Plain, said she has personal experience with this problem, citing when Whole Foods came to her neighborhood, which resulted in the rising of rent and increased construction of luxury buildings.
"When I first moved out to Boston, Jamaica Plain was considered a very dangerous area," Deolio said. "Flash forward 20 plus years later and it's one of the most desirable neighborhoods. I pay $1,800 for a one-bedroom apartment, so it's just [a] little out of hand when most of your salary goes to your rent."
John Guidetti, 61, of Roxbury said there needs to be a higher percentage of affordable housing for the normal working person, and expressed his dissatisfaction with the rising cost of rent.
"I think with new buildings and new construction it's becoming harder and harder to get affordable housing Downtown [Boston]," Guidetti said. "It's not enough. I don't know how people could afford to live there."
Solange Hackshaw contributed to the reporting of this article.