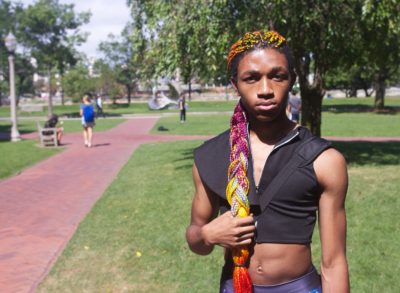 "Diamonds tempered like steel, honed in the flames of my own oppression to forge me into the sword of truth."
An applause of snaps and mummers of agreements emerged from the crowd at the Lilly Pad in Cambridge for Feminine Empowerment Movement Slam's open mic night.
The line is from Dev Blair's poem, "Up here." Blair, a junior in Boston University's College of Fine Arts, is an activist, artist, blogger and poet.
Blair came into CFA as an actor, but has since re-identified as an artist and performer who has recently found their voice through spoken word poetry.
"If I am to carve space in the narrative for stories like my own to be told, the skin I am best served by wearing is my own," Blair said in the last line of their most recent blog post.
Blair's gender is non-binary, which GLAAD defines as a term "used by some people who experience their gender identity and/or gender expression as falling outside the categories of man and woman." Blair uses they/them pronouns.
They express their gender identity through a number of different artistic outlets — namely fashion.
"Whether or not I decided to wear makeup on a particular day or whether or not I wear my false breasts on a particular day, or what kind of clothes I'm wearing," Blair said.
Blair said their spoken word is largely autobiographical. They try to build activism into their art.
"I approach [arts and activism] as though there is no line." Blair said.
Blair said most of their poetry has come from charged experiences they have faced during their time at BU. One experience that has stood out to Blair is dealing with people who don't believe that racism exists in the Northeast.
"It reinforces this idea that the North doesn't have anything to work on [or] that the North doesn't have to improve," Blair said. "And I'm like 'no, you do.' Everybody does. We as a culture have to improve."
Blair has written poetry on topics ranging from their decision to change their major to depression to their black identity and their gender identity.
"Their poetry tends to be a lot about politics with little nuggets of knowledge and humor and it's really impactful and cathartic," CFA freshman Schuyler Ross said.
Ross said Blair's work helps her understand experiences she has not lived through.
"I'm able to learn more about issues that don't personally affect me and I'm able to have conversations on how we can stand in solidarity together" Ross said.
The humanity Blair's work exhibits, Ross said, is essential to good poetry.
"One of the things that makes the poetry so good is the humanity behind it," Ross said. "You walk away knowing that you feel something."
Blair is also the creator and driving force behind the #PoorAtAPrivateUniveristy campaign, a social media movement that destigmatizes what it means to be poor and provides suggestions from real students on how the federal government and private institutions can help low-income students succeed.
The campaign attracted BU students' attention — even The Boston Globe took notice.
Blair is active on social media, constantly updating their accounts with resources and news for and about people within marginalized groups like the trans and black communities. Blair uses those platforms to share poetry and create discussion about art and politics.
Blair said they strive to give a voice to the unheard through their artistry and poetry.
"There [is] something about just expressing your truth as it is, no matter how messy that is, no matter how sad that is, no matter how angry that is," Blair said. "Something I think about a lot is the different ways that I, someone who is asked to be small by our society, challenges that notion and takes up space in an act that is and of itself radical."