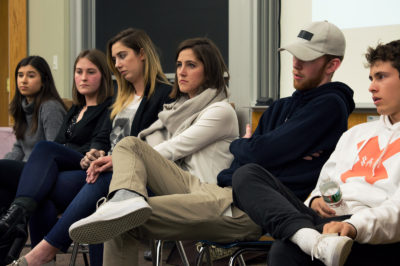 People are brands. Brands are people. This is the message that Her Campus promoted in their latest panel on social media influencers.
"Let's Talk Social Media Branding," an event hosted by the Her Campus chapters of Boston University and Simmons College, brought together a group of panelists on Tuesday to discuss social media growth, careers and personal branding.
The panelists, a group of local influencers and well-known students who have successfully curated social media accounts for both business and personal use, included Kate Weiser of BucketList Boston and Tiffany Lopinsky of Boston Foodies, among others.
"We chose people with unique stories, large or growing followings and familiar to people" Hannah LeBlanc, the events coordinator for Her Campus BU, said. Her Campus is a website that features articles written by and for empowered college women.
"HC is involved in and heavily relies on social media. With that in mind, we realized how social media is so prevalent in our personal lives," LeBlanc said.
The panelists offered advice and talked about their experiences in the world of social media.
"When I first got into it, I didn't even know this world existed," Lopinsky said. "It sometimes feels sorta crazy that people pay attention to what I eat. You know, I'm just a normal person who likes normal food — and weird food."
Boston Foodies began as a passion project when Lopinsky was a student at Harvard University, and today she has amassed over 100,000 followers.
Because social media influencers and personal branding are fairly new concepts, there is no correct or incorrect way of going about it. All of the panelists discussed their personal methods of expanding their brand and the ways they interact with their audiences and gain digital marketing skills.
"I'm on every social media platform at least once daily. Being aware of and understanding the ever-changing landscape definitely gives me a competitive advantage" panelist Regan Cleminson, founder of Venture Travelist and co-founder of R Public Relations, said.
Arlin Moore, a YouTube curator and College of Communication junior, told the audience that he gained a lot of his experience by working on email marketing at a small company in his hometown last summer. He said those skills translated into the creation of his clothing line and personal brand.
"I just had a Black Friday sale. I did really well this weekend, but with a lot of orders comes with a lot of customers who mess up their shipping address," Moore said in an interview with The Daily Free Press. "I have systems in place to the point where I know pretty much most of the questions and how to answer them."
Although the panelists have experienced a great deal of success due to their adept social media skills, they said their journeys have not been completely smooth.
Emma Johnson, founder of Em John Jewelry and COM junior, said she almost cracked under the pressure when she faced some angry emails from patrons, but support from loyal customers kept her going.
"Time is a challenge, especially because I have a full-time job" Lopinsky said. The other panelists agreed that it can be difficult to juggle school, work and jobs while trying to build a business or personal brand.
When asked about how their social media use has contributed to their careers, panelists offered compelling evidence.
Em John Jewelry was featured on 'Oprah's Favorite Things 2016,' and Johnson was soon approached by O, The Oprah Magazine to be an intern in New York for the summer. Johnson has also been able to use her profits to fund her college tuition.
Cleminson, who studied criminal justice at Northeastern University, realized her knack for public relations and now owns her own company. Social media played a key role in the development of her brand and her career.
"It made me realize how much work building a social media account is" Marilyn Rosenman, an event attendee and College of General Studies sophomore, said. "I think that these tips will help me in my future career in advertising."
Panelists stressed the importance of using social media to one's advantage.
"I don't think my success hinges on my social media skills per se, but rather grit and hard work. Working hard and working smart aren't mutually exclusive," Cleminson said. "However, I do think there is a unique opportunity with social media — as it allows anyone the platform and opportunity to grow their business or personal brand."