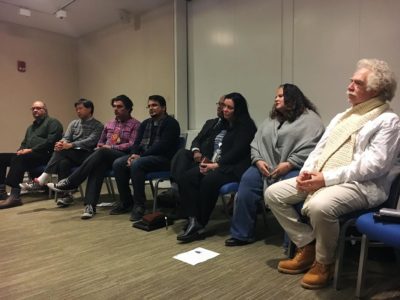 The School for the Environment at the University of Massachusetts, Boston hosted a community forum Tuesday on sustainable post-disaster recovery in Puerto Rico and other coastal regions in light of recent hurricanes.  
The forum was held in collaboration with UMass Boston's Transnational, Cultural and Community Studies program and anthropology department. They sought to offer an integrated perspective on developing solutions to challenges posed by coastal development and natural disasters, the school's founding dean, Robyn Hannigan, wrote in an email prior to the event.
By identifying opportunities for advancement in disaster recovery, the School for the Environment hopes to set forth a collective plan of action to individuals and organizations for the future, Hannigan wrote.
Several professors spoke at the forum about using an interdisciplinary approach combining both environmental science and social justice to understand climate change and develop recovery strategies, especially considering recent events in Puerto Rico.
Bob Chen, the director of the UMass Boston School for the Environment, said recent hurricanes have been exacerbated by warmer ocean temperatures over a threshold of 80 degrees Fahrenheit.
"If the ocean is above 80 degrees, it feeds hurricanes, and when it's below, you can't get a hurricane," Chen said. "The more you have warmer temperatures for longer at the threshold of 80 [degrees], which climate change reveals, you'll have more energetic hurricanes."
These environmental changes disproportionately affect poor communities in Puerto Rico who live in less favorable areas, Chen said.
"Historically, high ground has been more valuable … and so that leads the lower elevations to have less value," Chen said. "If you have less money to develop or build, those socially vulnerable communities are at literally lower elevations which are more vulnerable to flooding."
To address the effects of climate change, UMass Boston professor of anthropology José Martinez-Reyes said there must be a greater emphasis on developing renewable alternative energy sources.
"Something has to be done structurally from the energy system that has to provide alternative energies to redevelop … so the island can move towards a much more sustainable future that is less dependent on fossil fuels," Martinez-Reyes said.
Marisol Negrón, an American studies and Latin studies professor at UMass Boston, said Puerto Ricans are unable to effectively respond to natural disasters due to American debt imperialism.
"Currently, there is a $73 billion debt that is unpayable on the island and there was increasing poverty and social inequality that has been further illuminated by the hurricane," Negrón said. "There is also a fiscal control board that operates with impunity, without accountability to the people of Puerto Rico, and which has failed to audit what is an unpayable debt."
To ensure just recovery, the federal government must be financially accountable for the people of Puerto Rico, Negrón said.
"There also has to be a relationship between federal aid, relief efforts on the island and the networks between Puerto Ricans on the island and Puerto Ricans in the United States," Negrón said. "Person-to-person networks cannot supplant the responsibility of the federal government to Puerto Rico at this time."
Several people in attendance said they valued hearing different perspectives on how to approach post-disaster recovery and helping the people of Puerto Rico.
Katsyris Rivera-Kientz, a UMass Boston graduate student in the Transnational, Cultural and Community Studies program, said he thinks it's important to continue discussing Hurricane Maria, despite declining media coverage.
"It is evident that media doesn't talk about the topic a lot, but I find it very relevant that we're continuing the discussion and encouraging people to help and basically talk about the political and the non-natural crisis, which is the base of everything that happened after Hurricane Maria, Rivera-Kientc said.
Yamil Suarez, 43, of Cambridge, said he looks forward to being involved in local efforts to help Puerto Rican refugees in Massachusetts after having attended the panel.
"[The panel] made me think more about how to help those that have come recently to Massachusetts," Suarez said. "I'd like to help those that are closer."
Grace Furtado, a UMass Boston graduate student in the Transnational, Cultural and Community Studies program, said she appreciated hearing about the work of the diverse panel of speakers. 
"I think it was great to have a wide array of people that are from different sectors and different experiences coming together and talking about how they're trying to help Puerto Rico and how they would like to see the future of the island," Furtado said. "I think it's important for us on the outside to try to help as much as possible."