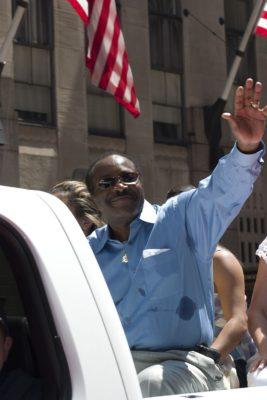 In his 22-year career, Hall of Fame second baseman Joe Morgan got a lot right. The 10-time All Star won two MVPs, five Gold Gloves and two world championships.
This week, however, he got a lot wrong.
Since 2000, Morgan has served as the vice chairman of the National Baseball Hall of Fame's board of directors. He sent a letter Tuesday using an official Hall of Fame email address, to the Baseball Writers' Association of America — the group of baseball writers who conduct baseball's Hall of Fame voting. In it, he urged voters to deny entry to players who used steroids during their careers.
On the surface, Morgan's argument is commendable — who wants cheaters in the Hall of Fame? But upon further examination and reflection, much of the baseball world has criticized Morgan for his message. Today, I join that faction. I don't want cheaters in the Hall either, but I believe that Morgan missed the point.
The letter is long, and quite emotional. Its main argument is this: Morgan and his fellow Hall members are advocating for a full rejection of "players who failed drug tests, admitted using steroids, or were identified as users in Major League Baseball's investigation into steroid abuse, known as the Mitchell Report."
He acknowledges the complexity of the matter, but believes the course of action to be rather clear. "We hope the day never comes when known steroid users are voted into the Hall of Fame," Morgan wrote. "They cheated. Steroid users don't belong here."
For a player with over 2,500 career hits, Morgan really struck out here.
First of all, his plea is too late.
Sure, it would be nice to keep the Hall of Fame free of cheaters. Unfortunately, it's too late for that. In his scathing reaction to Morgan's letter, association member Jeff Passan took particular issue with Morgan's claim that the Hall is "The most sacred place in Baseball."
Passan replied, "If, by sacred place, the Hall means one in which racists, wife beaters, drunks, gamblers and purveyors of manifold moral turpitude otherwise are celebrated, well, Cooperstown is a shining beacon of divinity set upon a hill of hypocrisy."
Harsh.
But Passan is right. The Hall currently has 317 members, and to think that all of them are utterly free of wrongdoing is laughable. The Hall inducted its first class in 1939, eight years before Jackie Robinson broke baseball's color barrier. It's safe to say that Cooperstown is home to its fair share of bad apples.
The other main issue with Morgan's letter is his understanding of cheating. He notably references solely "steroids," and not performance-enhancing drugs, a broader category with much deeper roots in baseball. For example, if we expand Morgan's no-tolerance policy of steroids to the much more common amphetamines, Willie Mays, Hank Aaron and Mickey Mantle would have to be kicked out.
By restricting the conversation to steroids alone, Morgan appears ignorant to the true issue. Since baseball's beginning, players have been utilizing various medications to enhance their ability and performance. Limiting the discussion to steroids ignores a much larger and more systemic problem of impurity.
Additionally, Morgan neglects a similar conundrum: Who cheated? He writes about banning "known steroid users." But how do we know who cheated and who didn't? He refers to the controversial Mitchell Report, the 2007 investigation by former U.S. Sen. George Mitchell, which has raised serious questions about who's clean, what it means to cheat and how to react to denials by the accused.
José Canseco cheated. This we know. He wrote a book entitled "Juiced: Wild Times, Rampant 'Roids, Smash Hits, and How Baseball Got Big." But what about David Ortiz? He has vehemently denied all claims of wrongdoing, but his named appeared in a 2003 report of users. Or Mike Piazza? He had allegations surrounding him, but he was inducted in 2016.
In short, beyond an inconsistent understanding of what it means to cheat, there is a lack of consensus on who cheated.
There does not appear to be one right answer or solution to baseball's performance-enhancing drug problem. That being said, I would like to offer a thought: I believe the whole debate is misguided.
As Passan and others have noted, there are already cheaters in the Hall of Fame. So a comprehensive ban on steroid users is out of the question. But rather than argue over whether or not to induct cheaters, I believe the debate should focus on how we frame baseball history itself.
The full name of the Hall is the National Baseball Hall of Fame and Museum. It's not just a room with plaques — it's baseball's history museum. The steroids era is an important, albeit regrettable, part of baseball history. Devoting space to a dark time in baseball's history does not mean honoring cheaters and elevating steroid users to the same status as Babe Ruth. It just means recognizing all periods in our history, the good and the bad.
This is by no means a simple proposal. If we add a steroid era exhibit, should Barry Bonds and Roger Clemens remain on the ballot? Truthfully, I don't know. But I do know that attempting to ignore or simplify the issue of performance-enhancing drugs in baseball, as Morgan has done, is counterproductive.
The steroid debate has plagued baseball for years. Some writers, like Passan, have forfeited their vote because of it. Others have thrown support behind one camp or the other. But at the end of the day, all can agree that this is a mess. And it's a mess that baseball needs to address. Not through ambiguously-directed emails or grandstanding, but through honest introspection, with players, writers and the Hall of Fame itself.
The association has a chance to bring change. Will we allow this rancorous debate to continue endlessly, or will we come together and find a solution? As a baseball fan and a hopeful future member of the association, I await the latter. And while I disagree with much of Morgan's premise, I applaud him for doing something many appear too afraid to do: Start the conversation.