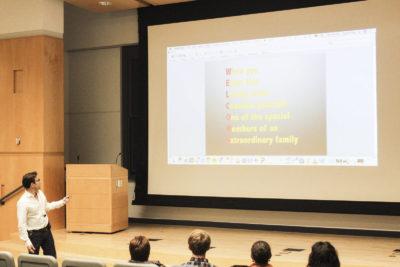 "Be with me," Scott Fried said, beginning his lecture to Boston University students on Tuesday. After calling upon his audience to hear him, and leading a Hebrew prayer to invite God, the award-winning speaker and HIV and AIDS advocate spoke about his experience being gay, religious and HIV positive.
The event was hosted by BU Hillel, Marsh Chapel and the Center for Gender, Sexuality and Activism.
Fried was diagnosed with HIV in 1988. Since his diagnosis, Fried said he has watched 133 friends lose their battles with the disease. This led to his need to make a change for future generations, as well as for himself, he said.
For 25 years, Fried has been presenting his story and wisdom to teenagers and adults alike across the globe. On top of his own experiences, Fried speaks on issues including safe sex, body image and suicide.
"The opposite of living is not dying," Fried said. "The opposite of living is not living a full life."
Fried began his presentation by recounting the history of the gay rights movement, starting with the Stonewall riots of 1969, when members of the LGBT community retaliated after police raided the Stonewall Inn, a gay club in New York City.
Fried went on to inform his audience that homosexuality used to be listed as a mental disorder, alongside pedophilia and bestiality in the Diagnostic and Statistical Manual of Mental Disorders by the American Psychiatric Association.
In these times when homosexuality was considered not only a crime, but also a mental disorder, Fried remembers being afraid to admit who he really was or what he refers to as his secret.
"We walk through the world with our secrets in tow," he said. "No one will accept the real me — the real me is too fragile."
Fried refers to this time when homosexuality was viewed as wrong as the "pre-'Glee' world," where teenagers could not be freely open about who they were and sing about it in front of their classmates.
Fried walked his audience through his teenage life, leading to college at George Washington University, where he found a picture of a male porn star on his dorm room door. The photo had the words, "I love you, you f*g" written on it in marker. "I couldn't stop looking at it," he said.
After college, Fried worked in theaters in New York City, where a carpenter gave him his number.
"I longed to be seen, but not for what I was showing," Fried said, remembering how he had a hunger to find "his person" — someone he could be himself with. When he walked to the carpenter's door, he was stuck asking himself, "Am I enough?"
This phrase, "Am I enough?" echoed throughout Fried's talk. In this carpenter's apartment, where Fried had his first sexual encounter with a man, he concluded that he was not enough. He aimed to turn this curse — not that he was HIV positive, but rather the feeling that he was not enough — into a blessing. He reminds himself that in God's image, he is enough.
He also discussed the importance of being welcoming. "People who say 'come here,' they don't judge and don't scold … [they] hold the space for you to be vulnerable and authentic," he said in an interview with The Daily Free Press.
Sydney Berman, a junior in the Questrom School of Business, first met Fried at a conference in St. Louis, and saw him again in his talk on Tuesday.
"I think he moves you and understands people," she said. "Everyone should love their own life and value it."
Danielle Tesler, a junior in the College of Engineering, and one of the event's organizers, said she was intrigued by Fried's story and wanted the BU community to hear it.
"He is well-known for being Jewish and gay, and given that I identify as a religious Jew and bisexual, I thought he had a story to which I could really relate," she said.
Tesler explained that being LGBT and being religious are often thought of as being worlds apart, and the relationship between the two is not often talked about.
"Often times with the way that people have interpreted the Bible, Koran and Torah, society sees being religious and LGBT as two very opposite things," she said. "When LGBT people think this way, then they close themselves off from this entire network of community, culture and support."
Fried is the author of three books: "If I Grow Up: Talking With Teens About AIDS, Love and Staying Alive," published in 1997, "My Invisible Kingdom: Letters From the Secret Lives of Teens," published in 2004 and "A Private Midnight: A Teenager's Scrapbook of Secrets," published in 2009.
"Coming out of any closet, bow your head, let life hurt," Fried said. "Be beautiful and be fragile."