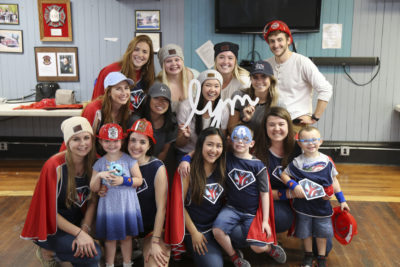 Americans spent a record-breaking $5 billion on Black Friday this year.
It was this frenzy Love Your Melon, philanthropic company, sought to capitalize on in the hopes of advancing its mission to fund pediatric cancer research and provide warm beanies to children battling this disease.
The fundraising sale, "Melon Madness Weekend," stretched from Friday to Monday and featured free shipping, new product releases and special gifts with each order from small businesses. After the weekend, the company decided to extend the sale until their $1 million goal had been met, which happened Tuesday afternoon.
Megan McDonald, a sophomore in the College of Arts and Sciences, was first introduced to Love Your Melon in high school.
She coached cheerleading for younger girls in her hometown of Beverly, Massachusetts, and found out that one of these girls had a sister fighting cancer. She grew close with the girl's sister, Riley Fessenden, and her family.
McDonald remembered how Love Your Melon brought Fessenden one of its signature beanies and decorated cheerleading hair bows with her while wearing superhero costumes. Fessenden gave one of these bows to McDonald, and even though Fessenden passed away last year, McDonald keeps the bow to this day.
McDonald's relationship with Fessenden and her family inspired her to volunteer at Boston Children's Hospital. It was here that she met Camilla Kemppainen, president and founder of the BU campus crew for Love Your Melon.
Kemppainen, a senior in the Sargent College of Health and Rehabilitation Sciences, created the BU chapter in 2014 after learning about the organization's mission, a mission that she said spoke to her. The chapter hosts events throughout the school year including visiting children with cancer in hospitals and tabling at the student union to raise awareness.
"You can just see the kids' faces light up. It's honestly amazing. There's no other word to describe it," Kemppainen said.
The BU Love Your Melon crew participated in the "Melon Madness Weekend" by heavily promoting it on social media. BU's official crew has 25 members, exceeding the company's standard of 20 students at other universities, Kemppainen said.
In addition to knit beanies, the company also sells blankets, shirts, scarves and mugs. Half of the proceeds from each purchase are donated to organizations dedicated to fighting pediatric cancer like St. Jude Children's Research Hospital, Alex's Lemonade Stand and the Make-A-Wish Foundation.
"A lot of people feel really helpless when it comes to things like childhood cancer, but by buying the beanies and supporting the cause they're giving money to a community that could really use it," Vi Tran, a CAS senior and member of the BU's Love Your Melon campus crew, said.
Tran joined Love Your Melon after speaking to the BU group about Okizu, a childhood cancer research program in California where she had volunteered. She said her interest in pediatric oncology stemmed from the fact that most children contract cancer from genetics rather than lifestyle choices, and the majority of cancer research funding is dedicated to adults.
Supporting this underfunded research justifies the purchase of what may be considered an overpriced beanie, Tran said. Most of the company's beanies cost upwards of $30, and although cheaper beanies are for sale elsewhere, she said, these hats are making a difference in the community through studies and creation of fun events for children with cancer.
"That's the whole point of Love Your Melon, to make the child feel like they are a child," Kemppainen said. "When you're sick with something like cancer, it's hard to see anything other than that."
Kemppainen and the BU Love Your Melon campus crew are currently planning events for spring semester, although they also plan to host a campaign encouraging people to donate bone marrow before the winter recess.
Katlyn Reid, vice president of the campus crew and a sophomore in the College of General Studies, said the group is particularly excited about an upcoming partnership event with the BU hockey team for their game against the University of Massachusetts on Feb. 9.
In what Reid said will be an emotional experience, a child battling cancer can spend time with the team and drop the ceremonial first puck. When they hosted a similar event last year, even the hockey players cried, Reid said.
"As cliché as it sounds, there's no better feeling than seeing the smile on those kids' faces when they're going through so much and there's so many things they can be upset about," Reid said.