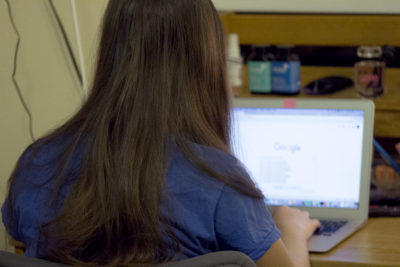 The Federal Communications Commission's upcoming vote on whether to repeal net neutrality could affect people and businesses nationally, especially in cities like Boston.
The vote could reverse the principle which provides for "heavy-handed regulatory framework" and "utility-style regulations" of the internet, Ajit Pai, the chairman of the FCC, said in a statement. Previous attempts to weaken net neutrality regulations have led to a great deal of backlash, forcing current FCC Title II rules that safeguard net neutrality.
Boston Mayor Martin Walsh tweeted in opposition of the repeal vote and in support of Boston businesses.
Norman Guadagno, the senior vice president of marketing at Carbonite, a Boston-based company that offers tools to protect against data loss, wrote in an email that the rejection of net neutrality would lead to disastrous results for smaller broadband service providers.
"Net neutrality creates a level playing field for businesses by ensuring that too much power doesn't fall into the hands of too few," Guadagno wrote. "If it's eliminated, the world's five largest broadband service providers will gain unfettered control over who gets access to the internet and how fast their internet connection speeds will be."
He wrote that a repeal presents a substantial concern for internet privacy, as it would give ISPs permission to use consumers' browsing histories, even without those histories being shared with them.
"If these rules are rolled back, it would largely allow the industry to police itself," Guadagno wrote. "These companies would also have free reign to create 'fast' and 'slow' lanes for internet traffic, and to block content and applications that compete with their own products, or even block news and opinion sites that promote political views they don't believe in."
Consumers and small businesses are most at-risk if net neutrality gets repealed, Guadagno wrote, because they are unable to ensure they have equity when it comes to internet access.
Another potential risk is how the repeal of net neutrality could affect small businesses if they were to have a cyberattack which requires high-speed internet in order to regain their data and go back to running their businesses, Guadagno wrote.
"Imagine the harm that would cause each one of these small businesses, who would have to wait days longer, maybe weeks, to recover critical information to run their business and serve customers," Guadagno wrote.
Daniel Lyons, a law professor at Boston College, said he is skeptical of net neutrality, an order he says hasn't affected internet operations.
"The ISPs voluntarily adhered to net neutrality principles even in the period before 2015 when net neutrality became law," Lyons said. "The concern among proponents of net neutrality is that you need the rules in order to prevent people from doing something nefarious in the future."
Lyons said that while net neutrality has become a topic of contention lately, there shouldn't be much concern regarding the loss of added regulations.
"Before 2015, we had no net neutrality rules and the net was fairly thoroughly open, in part because we don't really have congestion on broadband networks right now and so there's no need for some companies to pay for privatization over others," Lyons said. "Even for small business, I don't think there's going to be any serious impact or are going to continue to pay the bills they've always paid for hosting and for transit and things like that."
Several Boston residents said they agree with Mayor Walsh's backlash.
Brad Chaffee, 35, of Brighton, said he used to work for a small software company that would be negatively affected by a repeal.
"I like the idea of innovation, and small companies being allowed to use the internet and its open
concepts," Chaffee said. "The whole thing was designed to be open and that's the model its
operated on."
Matt Sliwkowski, 26, of Allston, said he opposes the potential abolishment, an issue he says is not just specific to Boston.
"I hate it, and I think everything should be equal," Sliwkowski said. "This opens up a bad can of worms if you ask me, and I don't think it's a good idea."
Christopher Lewis, 44, of Brighton , said smaller tech companies would struggle under the new regulations.
"As someone who works in the tech industry, I know the battle and back-and-forth of net neutrality," Lewis said. "The internet should be a place that's safe and equal for all. The elimination of net neutrality would put all the power into the hands of bigger companies which just isn't right."